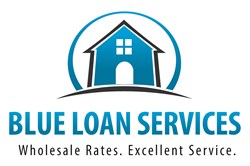 San Diego, CA (PRWEB) October 20, 2013
Blue Loan Services is a full service mortgage company that has been helping residents of California to find the best loan products and home loan rates for many years. The company, headed by the father and son team Robert and Brandon Blue, has been dedicated to serving its customers with honesty, integrity and competence. The Blue Loan Services team of mortgage professionals operates with the goal to provide home loans to its clients while providing them with the lowest interest rates and closing costs possible. The volatility in rates recently, with California mortgage rates dipping again after a recent increase, has caused a dilemma for mortgage borrowers who are trying to decide whether to lock or float their rates.
An article from Mortgage News Daily posted on October 16th says:
"Mortgage rates fell today, recovering yesterday's losses on average. Some lenders' rate sheets were just slightly better or worse than yesterday's latest, but nearly every lender had been worse this morning before releasing revised rate sheets in the afternoon. 30yr fixed best-execution remains at 4.375%, though 4.25% continues to make sense for some scenarios, depending on the difference in cost from 4.375% and personal preference. The promise of an end to the government shutdown took center stage today, helping both stocks and bonds improve vs yesterday. The full effects of a finalized deal won't be known until tomorrow, assuming the House and Senate pass the legislation tonight, as expected. From a market-watching standpoint it's important to keep in mind that the reason we're seeing an unexpectedly positive reaction to the debt deal in the world of longer term interest rates has much to do with the fact that we had been seeing an unexpectedly negative reaction to the overall fiscal drama as October progressed."
Blue Loan Services warns that there will likely be more uncertainty ahead. Because of this, those who are undecided on when they will lock in their rates face a real dilemma. There is no telling whether rates will continue down or if they will increase again, and there are no good indicators of what rates will look like in the near future because of the delayed reports. Blue Loan Services points out that, for the time being, rates are relatively stable, only moving very slightly either way. While this makes it safer to float for those who will be closing soon, it also takes away much incentive to float, as any decreases within the next week will likely be very small. Because of this, it may be a better idea just to lock if the borrower is satisfied with the current rates.
Blue Loan Services can help those who wish to lock in the current rates to find the best possible loans for their situation and work quickly to get approved so that they can avoid higher rates down the line. Their fast online loan application and documentation portal makes it simple for clients to submit their application and keep track of their loan's progress. With a reputation for fast, reliable and courteous service, the company's team of mortgage professionals can be especially useful during this time of rapidly changing mortgage rates.
For more information on how Blue Loan Services can help California home loan borrowers get approved for their home purchase loan or refinance quickly, please visit BlueLoanServices.com or call 1-888-929-BLUE (2583) to speak with an experienced mortgage professional.
CA Dept of Real Estate -- Licensed Broker #01094374 NMLS #938365