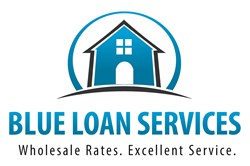 San Diego, CA (PRWEB) December 14, 2013
Blue Loan Services, a California full service mortgage company run by father and son, Robert and Brandon Blue, has been providing a wide range of home loan products, the best wholesale mortgage and lowest mortgage payments for many years. The Blue Loan Services team is dedicated to serving its clients with honest, integrity and competence and is continuously striving to help save borrowers money on their home purchase, refinance or equity loans. The loan company also does their best to keep their clients up to date on any recent changes in the mortgage and finance industries that could affect loan availability or affordability. Recently, California mortgage borrowers were pleasantly surprised by falling mortgage rates after a strong jobs report. Unfortunately, California mortgage rates have begun to rise again, putting an end to a three day winning streak.
As a December 11th report from Mortgage News Daily states, "Mortgage rates moved sharply higher today, erasing more than half of the improvement seen in the relief rally of the past 3 days. That rally was something of a paradox in that stronger employment data (as seen on Friday) typically pushes rates higher. Rates had been exceptionally weak through the entire month of November and into early December, leaving them in an overly defensive position ahead of a jobs report that wasn't that much better than expected. In such cases where market trading levels are somewhat offsides, it's not uncommon to see a "relief rally" lasting anywhere from a few hours to a few days. The absence of economic data and events during the first three days of the week allowed the positivity to continue unchecked, but the longer a relief rally continues, the more likely it is to bounce. With some help from headlines and an eye toward the week's first significant piece of economic data tomorrow morning, today became the day for the bounce."
Blue Loan Services explains that while ideally those who were looking for lower mortgage rates have used the past few days to their advantage, not all is lost for those who were not able to. Rates are still predicted to be going up, but Blue Loan Services notes that those who act fast will be able to avoid the worst of it. Today's low rates are not as low as they previously have been, but they are still within a good range for most home buyers and owners and borrowers might want to take this into account when deciding on their upcoming home loan plans. Many might find that locking in today's rates is the best option for their situation, and those who decide to wait or float their home loan rate should do so cautiously, with a close eye on any developments in the mortgage and finance industries.
Blue Loan Services can help those who wish to lock in the current low mortgage rates to find the best possible loans for their situation and work quickly to get approved so that they can avoid higher rates down the line. Their fast online loan application and documentation portal makes it simple for clients to submit their application and keep track of their loan's progress. With a reputation for fast, reliable and courteous service, the company's team of experienced loan officers can be especially useful during this time of rapidly changing mortgage rates.
For more information on how Blue Loan Services can help California home loan borrowers get approved for their home purchase loan or refinance quickly, please visit BlueLoanServices.com or call 1-888-929-BLUE (2583) to speak with an experienced mortgage professional.
CA Dept of Real Estate -- Licensed Broker #01094374 NMLS #938365