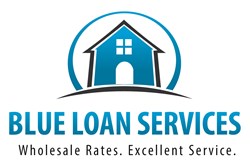 San Diego, CA (PRWEB) December 31, 2013
Blue Loan Services is a full service mortgage company that has been helping residents of California to find the best loan products and home loan rates for many years. The company, headed by the father and son team Robert and Brandon Blue, has been dedicated to serving its customers with honesty, integrity and competence. The Blue Loan Services team of mortgage professionals operates with the goal to provide home loans to its clients while providing them with the lowest interest rates and closing costs possible. The company also does its best to inform borrowers of any new developments which could affect their loan options, mortgage rate or ability to find affordable housing. Now the company comments on the recent slight decreases in California mortgage rates and gives some advice for those who are waiting to lock in the best rate.
A December 30th report from Mortgage News Daily explains, "Mortgage rates continued lower to begin the week after pulling back just slightly from 3-month highs on Friday. Activity continues to be subdued in the financial markets that underlie the day to day movement on lenders' rate sheets, making day-to-day changes less a factor of the day's events and more to do with random chance. In addition to that randomness, there's certainly been default momentum leading higher in rates. In general, that momentum has now led rates back to longer-term highs seen in August and September right as the year draws to a close. While this isn't an environment where you'd want to plan on falling rates, the way that we've hit recent highs presents the first opportunity to see a pocket of improvement within the longer-term trend higher."
Blue Loan Services explains that hopefully the improvement will continue through to the new year, and borrowers and originators will be able to enjoy lower mortgage rates for a while longer. That being said, rates are predicted to be going up in the long run. A number of factors are expected in 2014 which will make finding an affordable mortgage loan more challenging. Those who are ready to apply for a mortgage, however, can avoid the worst of it by applying for a loan as soon as they can and locking in the current low mortgage rates.
Blue Loan Services can help those who wish to lock in the current rates to find the best possible loans for their situation and work quickly to get approved so that they can avoid higher rates down the line. Their fast online loan application and documentation portal makes it simple for clients to submit their application and keep track of their loan's progress. With a reputation for fast, reliable and courteous service, the company's team of experienced loan officers can be especially useful during this time of rapidly changing mortgage rates.
For more information on how Blue Loan Services can help California home loan borrowers get approved for their home purchase loan or refinance quickly, please visit BlueLoanServices.com or call 1-888-929-BLUE (2583) to speak with an experienced mortgage professional.
CA Dept of Real Estate -- Licensed Broker #01094374 NMLS #938365