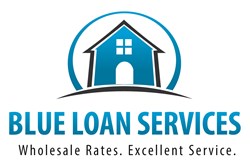 San Diego, CA (PRWEB) January 11, 2014
Blue loan Services is a full service mortgage company that has been serving the residents of California with the best wholesale loan rates, the lowest closing costs and the fastest and easiest loan processing available. The company, which is headed by father/son team Robert and Brandon Blue, is proud to offer their clients a wide range of loan products that will help them save the most amount of money over their course of their mortgage loan. In order to continue offering the best loan experience, the company strives to stay up to date with any changes in the financial and real estate industries which could affect mortgage rates or the availability of loan products or benefits to their clients. Now, with California mortgage rates dropping to the lowest levels in a month after the release of the Employment Situation report, Blue Loan Services explains the decrease and gives some advice to those searching for the most favorable home loan.
A January 10th report from Mortgage News Daily explains, "Mortgage rates fell abruptly today, following a significantly weaker than expected Employment Situation report. The data hit markets before most lenders had rates available for the day, but most of them still held back on the first round of rate sheets. As trading levels in the secondary mortgage market only improved into the afternoon, lenders released new rate sheets reflecting more of the day's movement. Ultimately, it's been enough to bring 4.5% back into view as a best-execution rate, though 4.625% remains at least as prevalent. Today's movement ends up being fairly uncomplicated. Heading into late December, rates leveled-off into an extremely flat pattern. This carried into the new year and it became increasingly clear that it would be up to today's big jobs report to cast a vote for the next move to be higher or lower."
Blue Loan Services explains that the Employment Situation report provides the weightiest economic data that affect mortgage rates, and if the actual data is higher or lower than market expectations, rates will move accordingly. Yesterday, the report came back much weaker than what was expected, and thus rates dropped off, bringing them to the lowest levels in a month. This is great news for those who want to save money on their mortgages, as the decrease would translate to a lot of savings over the course of the borrower's loan.
However there may be those who are inclined to hold off on locking in their rate in hopes that rates will improve even more. While this is certainly a possibility, for now mortgage rate expectations still show rates rising this year unless subsequent jobs reports continue to be very weak. Even then, rates are not likely to get back to last year's lows, simply because the Federal Reserve has already started tapering its bonds purchases, which had been keeping rates lower the past few years.
Because of this, Blue Loan Services' advice is for those who are close to closing their loan to lock in today's low rates, and those who wish to float should do so cautiously, as rates could move back up unexpectedly. Blue Loan Services can help those who wish to lock in today's low mortgage rates to find the best possible loans for their situation and work quickly to get approved so that they can avoid higher rates down the line. Their fast online loan application and documentation portal makes it simple for clients to submit their application and keep track of their loan's progress. With a reputation for fast, reliable and courteous service, the company's team of experienced loan officers can be especially useful during this time of rapidly changing mortgage rates.
For more information on how Blue Loan Services can help California home loan borrowers get approved for their home purchase loan or refinance quickly, please visit BlueLoanServices.com or call 1-888-929-BLUE (2583) to speak with an experienced mortgage professional.
CA Dept of Real Estate -- Licensed Broker #01094374 NMLS #938365