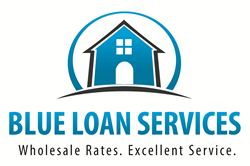 San Diego, CA (PRWEB) March 28, 2014
Over the past five days California mortgage rates had either improved or remained steady. Today that CA mortgage rate winning streak finally came to an end. Blue Loan Services, a full service California mortgage company that has been providing the lowest rates and best loan products for many years, comments on this current situation and gives some advice for those who are not sure how to best proceed with their home loan plans.
A March 28th report from Mortgage News Daily says, "Mortgage rates finally experienced a correction to the 5-day winning streak that had carried them lower after last week's spike. On a slightly unsatisfying note, the winning streak was never quite able to erase last week's losses and by the time today's weakness is factored in, rates are right in the middle of the recent highs and lows. When adjusted for day to day changes in closing cost, rates moved 0.03% higher today on average. That leaves the most prevalently quoted conforming 30yr rate for top-tier scenarios (best-execution) at 4.5%, with a few lenders still close to 4.375%."
Blue Loan Services explains that the slight correction is not unexpected, as rates will naturally shift to higher levels over time and hoping for an uninterrupted downward slope for rates is not realistic. For mortgage seekers, this means that any decreases should be seen as opportunities to lock in a good rate and possibly save thousands or even hundreds of thousands of dollars on their home loans. Those who are starting the loan process, or who are currently floating their rate, should keep this in mind and be ready to rake advantage of any dips in rates when they happen, especially since mortgage rates forecasts predict rising rates this year.
With a number of important economic reports scheduled for next week which will affect rates one way or another, now would be a good time to consider locking in. Those who lock in today's rates with a lender that allows for renegotiation will have the assurance that if rates get higher, they will have already saved a lower rate. Blue Loan Services can help borrowers within California who wish to lock in today's low mortgage rates to find the best possible loans for their situation and work quickly to get approved so that they can avoid higher rates down the line.
Their fast online loan application and documentation portal makes it simple for clients to submit their application and keep track of their loan's progress. With a reputation for fast, reliable and courteous service, the company's team of experienced loan officers can be especially useful during this time of uncertainty in mortgage rates.
For more information on how Blue Loan Services can help California home loan borrowers get approved for their home purchase loan or refinance quickly, please visit BlueLoanServices.com or call 1-888-929-BLUE (2583) to speak with an experienced mortgage professional.
CA Dept of Real Estate -- Licensed Broker #01094374 NMLS #938365