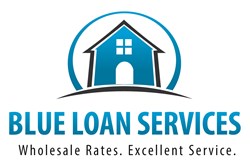 San Diego, CA (PRWEB) September 07, 2013
Blue Loan Services is a full service mortgage company that has been helping residents of California to find the best loan products and home loan rates for many years. The company, headed by the father and son team Robert and Brandon Blue, has been dedicated to serving its customers with honesty, integrity and competence. The Blue Loan Services team of mortgage professionals operates with the goal to provide home loans to its clients while providing them with the lowest interest rates and closing costs possible. With the volatility being experienced in today's mortgage markets, more homeowners are concerned that they will be missing their last opportunity to refinance to a more favorable rate and/or loan term. Recent Blue Loan Services reviews show that despite the worsening situation, the loan company is still obtaining the best possible California refinance rates for their clients.
One of the latest reviews of Blue Loan Services, written by a San Diego resident, says: "We had five re-financings done by Mr. Brandon blue of Blue Home Loans. We found him to be very reliable and honest. He was quite responsive to our queries at various stages of re-financings. His refinancing cost estimates were quite reliable and matched those with the closing statements. We highly recommend him to anyone for for their refinancing needs without any reservation. Balbir S. Narang,Professor Dept. of Aerospace Engineering San Diego state University, San Diego"
Another of the reviews from a client living in Rancho Palos Verdes, CA, says of the company: "We've bought and sold many houses, so financing and refinancing are not new to us. We spoke with several lenders and brokers, but Brandon Blue was the only one who figured out a way for us to refinance in a way that made sense and saved us a whole lot of money. He was reliable, trustworthy, and calm, and we'd love to work with him again."
An Oakland resident says: "My last re-fi experience with Brandon Blue was the most positive so far. I had very recently tried two times unsuccessfully to refinance only to have the underwriters kill the deal. As such, I was reticent to start the process again for fear that it would not go through. Brandon convinced me that the lender he was working with would likely approve my refinance loan. So I bit the bullet and went for it. The process went about as smoothly as usual, until the underwriters asked for a document/piece of information which was nearly impossible to obtain. It appeared as though the deal was dead. Brandon went to bat for me and requested that senior underwriters re-examine their request and allow the deal to continue. He was able to convince them. My sense is that not many other brokers would have been able to pull this off. As such, I am quite grateful for his skills at negotiating through the loan process. I would definitely do business with him again."
These are only a few of the many recent reviews of the company's refinancing abilities. To find out more about how Blue Loan Services can find the best rates and execute refinances in a fast and efficient manner, please visit BlueLoanServices.com or call 1-888-929-BLUE (2583) to speak with an experienced mortgage professional.
CA Dept of Real Estate -- Licensed Broker #01094374 NMLS #938365