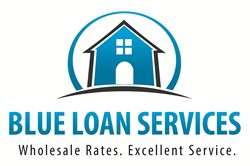 San Diego, CA (PRWEB) August 13, 2013
Blue Loan Services, a California based full service mortgage company headed by father and son team Robert and Brandon Blue, has been serving their clients with the lowest possible home finance and refinance rates for many years and offers a wide range of loan products that can help borrowers find loans that will perfectly suit their unique financial situations and lifestyles. The team of mortgage professionals at the company has a reputation for providing fast, on time service and attending to their clients with the greatest level of personal care and professionalism. One of the services that the company has become known for is the cash out refinance mortgage loan option provided. The quick closing times achieved by the Blue Loan Services team as well as their ability to work with clients and loan servicers to navigate tricky loan applications have helped homeowners all over California to realize the benefits of refinancing their mortgages. New client reviews from those who have recently closed refinance loans with the company attest to this customer satisfaction.
As the Blue Loan Services website states: "A home refinance loan can not only improve your current rate and terms, but can give you a chance to change the type of loan you are in, increasing your loan payoff time. Refinancing your home loan enables you to replace your existing home loan with a new home loan with better terms while giving you the opportunity to get cash back from the equity you have built in your home. Using the equity in your home is a powerful tool that can help you improve your overall financial well being and pay off high interest loans, debts, and credit cards." They also post some of the benefits of refinancing being:

"Lower your rate
Decrease payoff time
Get cash out
Consolidate debt
Pay off credit cards
College tuition
Home improvement
Medical expenses"
Blue Loan Services has helped many California homeowners to realize these benefits. One of the new Blue Loan Services reviews from a client living in Redwood City, CA, states:
"Everyone I dealt with at Brandon Blue was extremely professional, responsive and courteous. I was refinancing my primary loan, but had a 2nd, so a subordination was needed from that 2nd mortgage company. There was some doubt early on whether that subordination would happen in time, but Shari at Brandon Blue was calling my 2nd mortgage company on a nearly daily basis to push them to get it done! She was key to my refinance completing on time. The process Brandon Blue has in place for communicating with their customers is very robust. I've probably refinanced 10 times in my life, and I've never had anywhere near this level of communication and willingness to help from any other company. I would highly recommend Brandon Blue for anyone with mortgage needs!"
Another client from Carmel Valley says: "From the very start of my loan process Brandon Blue was very professional and personable. He answered my phone calls and e-mails either immediately or as soon as my information was available. The entire process was seamless and efficient including the appraisal and all other individuals involved. I was able to re-fi my home mortgage and reduce my rate from 5.375% to 3.75% - A $703 a month interest savings and $200K savings over 10 years! The entire process from date of "lock" to loan funding took less than 30 days. If you want your loan to be completed professionally and in a timely manner I highly recommend Brandon Blue of Blue Home Loans and his Team!"
These are just a few of the many reviews highlighting the great refinancing services offered by Brandon Blue's team at Blue Loan Services. For more information on this and the other services offered by the company please visit BlueLoanServices.com or call call 1-888-929-BLUE (2583) to speak with an experienced mortgage professional.
CA Dept of Real Estate -- Licensed Broker #01094374 NMLS #938365