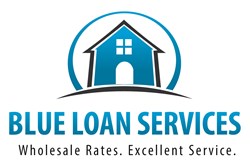 San Diego, CA (PRWEB) December 21, 2013
Blue Loan Services is a California-based full service mortgage company that has been helping California home loan borrowers find the best loan products for their needs and the lowest rates and fees for many years. As the mortgage world continues to change and new news develops, the Blue Loan Services team strives to keep their clients updated in order to alert them to any turn of events which could affect their loan availability or rate. Now, with Rep. Mel Watt announcing that he will delay mortgage fee increases announced by Fannie Mae and Freddie Mac earlier this month, the mortgage company reports on how borrowers will be affected.
A December 20th report from the Wall Street Journal says, "Rep. Mel Watt (D., N.C.), the incoming director of the regulatory agency that oversees Fannie Mae and Freddie Mac, said Friday night he would delay an increase in mortgage fees charged by the housing-finance giants, which was announced earlier this month by that agency. Mr. Watt was confirmed by the Senate to head the Federal Housing Finance Agency on Dec. 10 and is set to be sworn in on Jan. 6, he said in an email on Friday. Upon being sworn in, "I intend to announce that the FHFA will delay implementation" of the loan-fee increases "until such time as I have had the opportunity to evaluate fully the rationale for the plan," he said in a statement."
Blue Loan Services explains that this is great news for California mortgage borrowers because the Federal Housing Finance Agency (FHFA) had originally signaled an increase in the fees charged by the two mortgage giants which are then passed on to the mortgage borrowers. Earlier this week, specifics about the increase revealed that these increases would drastically increase fees for those who do not have perfect credit scores or are unable to pay a large down payment on their loan.
With Mr. Watt announcing that he would evaluate the increases, it is hoped that there will be adjustments made to the increase plan which would make things more lenient for those that do not meet ideal borrower requirements. However, Blue Loan Services warns that, while borrowers can take heart from this development, it should not make them complacent about finding a good loan and rate. Increases are on the horizon; the only question is how high they will be. Because of this Blue Loan Services suggests that borrowers do not delay when it comes to finding the right loan and locking in today's low mortgage rates.
Blue Loan Services can help those who wish to lock in the current rates to find the best possible loans for their situation and work quickly to get approved so that they can avoid higher rates down the line. Their fast online loan application and documentation portal makes it simple for clients to submit their application and keep track of their loan's progress. With a reputation for fast, reliable and courteous service, the company's team of experienced loan officers can be especially useful during this time of rapidly changing mortgage rates.
For more information on how Blue Loan Services can help California home loan borrowers get approved for their home purchase loan or refinance quickly, please visit BlueLoanServices.com or call 1-888-929-BLUE (2583) to speak with an experienced mortgage professional.
CA Dept of Real Estate -- Licensed Broker #01094374 NMLS #938365