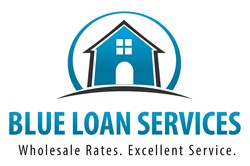 San Diego, CA (PRWEB) November 08, 2013
Blue Loan Services is a full service mortgage company that has been helping residents of California to find the best loan products and home loan rates for many years. The company, headed by the father and son team Robert and Brandon Blue, has been dedicated to serving its customers with honesty, integrity and competence. The Blue Loan Services team of mortgage professionals operates with the goal to provide home loans to its clients while providing them with the lowest wholesale interest rates and closing costs possible. These services have benefited hundreds of California home loan borrowers, and handful of which have recently written reviews attesting to the efficiency, friendliness and professionalism of the mortgage company and the convenience of the fast online loan application portal used by Blue Loan Services.
One recent review states: "I worked with Brandon Blue last year to refinance my home. Last month, when I was purchasing a rental property, I decided to work with Brandon because I trusted that he could get the job done. He and his loan processor, Kari Shane, worked diligently on my loan. Even though my 30-day escrow closing was delayed a few days, everything worked out just fine. I have already recommended Brandon's team to my friends and would consider using him again."
Another Blue Loan Services review from clients living in Rancho Palos Verdes, CA, says: "We've bought and sold many houses, so financing and refinancing are not new to us. We spoke with several lenders and brokers, but Brandon Blue was the only one who figured out a way for us to refinance in a way that made sense and saved us a whole lot of money. He was reliable, trustworthy, and calm, and we'd love to work with him again."
A Danville, CA, resident says of Brandon Blue: "Very thorough, timely, explains process well, has good team supporting him - and explained the great rate I received, along with the level of detail I sought. I highly recommend Brandon Blue."
A client from Aspen Davis says: "I've refinanced using online mortgage lenders many times and had no problems with Brandon and his team. They were very responsive to my questions and got things done quickly. His rates and costs were the best I was able to find on the internet, and, of course, were well below what the banks and credit unions could offer. Brandon also told us that he would continue to monitor our loan as the market changes and if they find that we could benefit from refinancing again, they would let us know--great service!"
These are just a few of the recent reviews that exhibit how well the mortgage company has continued to accommodate the needs of California home loan borrowers and get them the loans that they need. For more information on how Blue Loan Services can help California home loan borrowers get approved for their home purchase loan or refinance quickly, please visit BlueLoanServices.com or call 1-888-929-BLUE (2583) to speak with an experienced mortgage professional.
CA Dept of Real Estate -- Licensed Broker #01094374 NMLS #938365