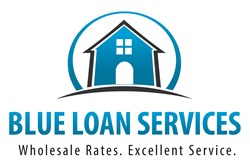 San Diego, CA (PRWEB) November 25, 2013
Blue Loan Services is a full service California mortgage company that offers the lowest wholesale rates and closing costs and provides its clients with the swiftest and most professional loan services. With years of experience, and connections to the top lenders and real estate agents in the state, Blue Loan Services ensures a great loan experience for both first time home buyers and experienced home owners who wish to purchase a new home or refinance their current mortgages. The company carefully monitors real estate market data and keeps up to date on new loan products or changes to current products in order to offer their clients the best possible loan options for their situations. With recent changes to the FHA loan program, resulting in fewer lenders being willing to originate these loans, Blue Loan Services addition of FHA specialized lenders is very timely, as this will help clients to obtain FHA financing despite the difficulties the program is facing.
As an article from Mortgage News Daily, posted on November 23rd, titled "FHA Loan Difficulties; Monitoring Counterparties, Affiliate Fees; Selling Loans Servicing Retained?" explains, the reason that fewer lenders are originating these loans is due to the large amount of delinquent FHA loans. The MND article reports: "According to a recent American Banker article, Bank of America, Citigroup, JPMorgan Chase and Wells Fargo have $57 billion in seriously delinquent, FHA-insured, loans against which no FHA claims have been made. Moreover, the top ten largest FHA lenders are holding more than 550,000 seriously delinquent FHA loans."
Blue Loan Services explains that FHA loans are usually the best option for those who are first time home buyers or have a lower income. This is because the Federal Housing Administration insures these loans, guaranteeing that the lender will be able to recover any losses if the borrower defaults on their mortgage. Because of this FHA insurance, lenders are able to give out loans with very low down payments, typically as low as 3.5%. However, because of the enormous amount of delinquent loans in recent years, lenders are finding that they are having more insurance claims contested.
As the above mentioned article explains: "Not only do lenders risk FHA claim audits, the Financial Institutions Reform, Recovery, and Enforcement Act of 1989 (FIRREA) and the False Claims Act allow the government to seek significant monetary damages against lenders where the government can establish that defaulted loans were not originated to FHA standards."
This has discouraged many lenders from approving these types of loans, making it difficult even for financially capable borrowers who meet all requirements to obtain them. Blue Loan Services can help remedy this. By working closely with the borrower to ensure that they meet FHA loan requirements, counseling them as to whether an FHA loan is the best option and making sure that they can actually afford the mortgage, as well as being connected to lenders that are not only willing to originate FHA loans, but actually specialize in them, Blue Loan Services can ensure a fast and easy loan process for California home loan borrowers.
Their reputation for fast, professional and courteous service has made Blue Loan Services one of the favorite mortgage companies in California for many years. For more information on how Blue Loan Services can help California home loan borrowers get approved for their FHA home purchase loan or refinance quickly, please visit BlueLoanServices.com or call 1-888-929-BLUE (2583) to speak with an experienced mortgage professional.
CA Dept of Real Estate -- Licensed Broker #01094374 NMLS #938365