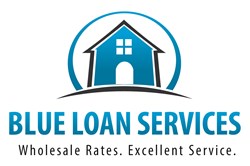 San Diego, CA (PRWEB) January 20, 2014
Blue Loan Services is a full service mortgage company that has been helping residents of California to find the best loan products and home loan rates for many years. The company, headed by the father and son team Robert and Brandon Blue, has been dedicated to serving its customers with honesty, integrity and competence. The Blue Loan Services team of mortgage professionals operates with the goal to provide home loans to its clients while providing them with the lowest interest rates and closing costs possible. Recently the mortgage company released an FHA mortgage guide on their website, which helps borrowers understand the advantages and disadvantages of these government backed loans and helps answer the question "Is an FHA loan right for you?"
The Blue Loan Services' FHA mortgage guide says, "The main advantage of FHA home loans is that the credit qualifying criteria for a borrower are not as strict as conventional financing. FHA will allow the borrower who has had a few "credit problems" or those without a credit history to buy a home. FHA will require a reasonable explanation of these derogatory items, but will approach a person's credit history with common sense credit underwriting. Most notably, borrowers with extenuating circumstances surrounding bankruptcy that was discharged 2 years ago can work around the credit hurdles they created in their past."
The article goes on to say, "Conventional financing, on the other hand, relies heavily upon credit scoring. Credit scoring is a rating given by a credit bureau (such as Experian, Trans-Union, or Equifax) that ranks you upon your credit profile. For each inquiry, credit derogatory or public record that shows up in your credit report, your score is lowered (even if such items are in error). If your score is below the minimum standard, you will not qualify–end of story."
Blue Loan Services goes on to answer more questions about FHA loans and provides a handy list of requirements that those applying for such loans will need to meet. As a Federal Housing Commissioner approved lending institution, Blue Loan Services has been helping California borrowers to get their FHA loan applications approved for many years. Those who do decide that applying for an FHA loan may be the right option for them can talk to one of the company's experienced mortgage professionals to go over any other questions and make sure that it really is the best choice in their situation.
Blue Loan Services can help home loan borrowers to obtain approval for their FHA loans quickly. Their team of loan officers works closely with clients to collect the necessary documentation and find a loan that is suited to their specific needs and home ownership goals. The company's fast online loan application and documentation portal makes it simple for clients to submit their application and keep track of their loan's progress. With a reputation for fast, reliable and courteous service, the company's team of experienced mortgage professionals can be especially useful during this time of change within the mortgage industry.
For more information on how Blue Loan Services can help California home loan borrowers get approved for their FHA home purchase loan or refinance quickly, please visit BlueLoanServices.com or call 1-888-929-BLUE (2583) to speak with an experienced mortgage professional.
CA Dept of Real Estate -- Licensed Broker #01094374 NMLS #938365