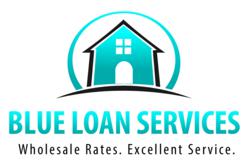 San Diego, CA (PRWEB) July 02, 2013
Blue Loan Services is a full service mortgage company that has been servicing the residents of California with some of the lowest wholesale home loan interest rates and the quickest online processing times for many years. The company is one of the top rated lenders in California according to lender review website, Lender 411, and was included in their list of the 50 Best Mortgage Lenders in California. Blue Loan Services offers a number of different lending services and recently updated their website so that they can provide free mortgage pre approval services for home buyers in their service area.
A recent Blue Loan Services article posted on the company's website says: "If you are thinking about purchasing a new home, don't wait until you find the perfect home to get pre qualified! Make sure your credit is healthy and find out how much you can qualify for before you find the home of your dreams. This helps insure that you not only choose a home in the right price range, but help avoid falling in love with a home that you can't afford! Another great reason to get qualified as early in the process as possible is to insure the fastest closing possible. If there are multiple offers going in on a home, you may be at a disadvantage if you are not able to secure financing quickly. Don't wait until the last minute!"
With the mortgage industry finally seeing some recovery and interest rates still near record lows despite recent increases, multiple offers on the same house are becoming more common place. In order to get the advantage when it comes to bidding, potential home buyers will want to not only get pre qualified, but get pre approved as well. Pre approval carries more weight than a pre qualification. With home loan pre approval, the borrower will need to submit almost everything that the lender will need to underwrite the mortgage.
By getting pre approved, the borrower will have more bargaining power when it comes time to bid on their home. With so many other buyers in the market, this advantage can turn out to be the difference between settling into a home with minimal hassle and losing the home to another buyer who was bidding on the house. With the free home loan pre approval services now offered on Blue Loan Services, there really is no reason that those who are shopping around for a house should wait until they find their ideal home before taking steps to ensure that they will be able to close on the home of their choice.
By working with the Brandon Blue and the rest of the team of mortgage professionals at Blue Loan Services, borrowers will not only benefit from getting pre approved for free, but they will also have access to dozens of resources for homeowners and connections to the best lenders in California. A recent review says that the Blue Loan Services team was "Knowledgeable and had very quick response times. We were very pleased with Brandon Blue's no surprises, all up front business. And Blue's rate beat the other much larger companies of competitors. Brandon Blue's "portal" URL which I used kept all documentation completely organized. Today is the modern age of e-documents and e-signatures. Brandon Blue is right in-step with modern technology which is the fastest, most convenient, and reliable way to do home loans today."
Click here to visit Blue Loan Services' website and get a free rate quote today.