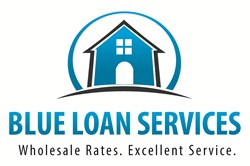 San Diego, CA (PRWEB) July 31, 2013
Blue Loan Services is a full service mortgage company that has been providing California home loan borrowers with the best wholesale home purchase and refinance rates, as well as access to the most trusted California mortgage lenders and specialized loan products for many years. The company's website offers a number of tools that homeowners and home buyers can use to find the best mortgage scenarios for their unique financial situations and lifestyles, as well as news on the latest mortgage trends and other stories that affect mortgage rates and home prices. The company, headed by senior loan officer, Brandon Blue, and his father, Robert Blue, is dedicated to serve its customers with honesty, integrity and competence. These services have been even more in demand with the recent news of home sales slowing due to interest rates increases and the team of mortgage professionals at the company are now even better equipped to help assist home buyers and owners at this time as new members of the National Association of Realtors.
Blue Loan Services has been known for providing the best mortgage rates Orange County has to offer, and this combined with the fast online loan processing system and the new resources available to the company through the NAR serve to enable clients to find the best rates and lock them in as fast as possible before rates increase even higher. Those looking for housing in the Orange County area will have noticed that home prices are getting higher and less affordable unless they are able to lock in the lowest possible rates and loan terms. In a press release from the NAR dated this July 29th, the association reported: "After reaching the highest level in over six years, pending home sales declined in June, with rising mortgage interest rates beginning to impact the market."
Another quote from the news release says: "Lawrence Yun, NAR chief economist, said higher home prices and interest rates are beginning to impact affordability, notably in high-cost regions. "Mortgage interest rates began to rise in May, taking some of the momentum out of contract activity in June," he said."
However, with the lowest rates available and the quick services provided by the Blue Loan Services team, buyers may not have to give up on their dreams of home ownership. A difference of just a few points off can save the homeowner thousands of dollars over the life of the loan, which can keep buying a house on the table for those who were surprised by the sudden rate increases. Of course, this applies to both those who are looking to buy a house and those who want to refinance their current mortgages. Blue Loan Services can provide this affordability and enable those who had been planning to buy or refinance before the increases to still continue with their plans. A recent review from a Blue Loan Services client says:
"From the very start of my loan process Brandon Blue was very professional and personable. He answered my phone calls and e-mails either immediately or as soon as my information was available. The entire process was seamless and efficient including the appraisal and all other individuals involved. I was able to re-fi my home mortgage and reduce my rate from 5.375% to 3.75% - A $703 a month interest savings and $200K savings over 10 years! The entire process from date of "lock" to loan funding took less than 30 days. If you want your loan to be completed professionally and in a timely manner I highly recommend Brandon Blue of Blue Home Loans and his Team!"
For more information on how Blue Loan Services can help homeowners cope with changes in the mortgage industry click here to visit the company website or call 1-888-929-BLUE (2583) to speak to an experienced mortgage professional.
CA Dept of Real Estate -- Licensed Broker #01094374 NMLS #938365