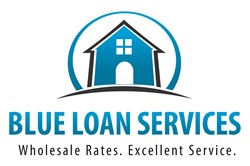 San Diego, CA (PRWEB) October 17, 2013
Blue Loan Services, a CA mortgage lender, provides wholesale rates for home purchase and refinance loans, as well as access to the most trusted California mortgage lenders and specialized loan products for many years. The company's website offers a number of tools that homeowners and home buyers can use to find the best mortgage scenarios for their unique financial situations and lifestyles, as well as news on the latest mortgage trends and other stories that affect mortgage rates and home prices. The company, headed by senior loan officer, Brandon Blue, and his father, Robert Blue, is dedicated to serve its customers with honesty, integrity and competence. Most informed mortgage borrowers have been eyeing the current situation in the mortgage world warily, as the shutdown, debt ceiling and delayed economic data have all combined to make for a very uncertain future for interest rates. Though there has been a recent interest rates increase, the fact is that is was very small and rates, overall, have been pretty much flat since the shutdown started. Blue Loan Services takes a look at what is causing the stagnation in rates right now.
First of all, the stable rates are either a plus or minus depending on how mortgage borrowers look at the situation. Those who have been waiting for rates to move down will find this situation frustrating, since the markets are not expected to rise or fall significantly at all until the shutdown is resolved (more on this later). However, the fact that rates are not likely to move drastically up or down makes it easier for those who are close to closing a loan to decide whether to lock in their rate or float. Since rates will likely not go down very much soon it does not really make sense to float, so those who are usually undecided will have an easier time making up their minds about locking in their rates. The slight increase over the last week also indicates that it would be better to lock in rather than risk further slight, but still somewhat costly, increases in the next few weeks.
A report from Mortgage News Daily, published on October 11th, says: "Mortgage rates were flat today, ending the week higher for the second Friday in a row after 3 exceptionally strong weeks in September. Some lenders offered slightly better rate sheets today when compared to yesterday's latest, though others were slightly worse off. Conforming, 30yr fixed best-execution remains between 4.25 and 4.375%. For the best qualified borrowers, 4.375% may well have no origination or discount points whereas 4.25% might. Neither option is better or worse--simply a matter of personal preference. Compared to last week, we saw more volatility in rates, but only in two concentrated doses on Tuesday and Thursday. Even then, the entire month of October has been exceptionally quiet in terms of day-to-day changes for mortgage rates."
But why are mortgage rates so flat? This is because most of the economic reports that market investors use to determine whether interest rates will go up or down have been delayed thanks to the government shutdown. Where rates will head after the shutdown all hinges on the info that will be provided in the reports, especially the Employment report, which has already been compiled but has not yet been released due to the halt in government services. So what should loan borrowers take away from this? Blue Loan Services advises their clients to be wary of getting too settled into the idea of stable rates that will be around for a while. The truth is that anything could happen after the reopening of the government, and since this will be seen as a positive economic development it is possible rates could go up rather than down when this happens.
Those who do wish to take advantage of today's rates, which are still quite low, should do their best to find the right loan product and lock in their rates as soon as they can. Blue Loan Services can help those who wish to lock in the current rates to find the best possible loans for their situation and work quickly to get approved so that they can avoid higher rates down the line. Their fast online loan application and documentation portal makes it simple for clients to submit their application and keep track of their loan's progress. With a reputation for fast, reliable and courteous service, the company's team of mortgage professionals can be especially useful during this time of rapidly changing mortgage rates.
For more information on how Blue Loan Services can help California home loan borrowers get approved for their home purchase loan or refinance quickly, please visit BlueLoanServices.com or call 1-888-929-BLUE (2583) to speak with an experienced mortgage professional.
CA Dept of Real Estate -- Licensed Broker #01094374 NMLS #938365