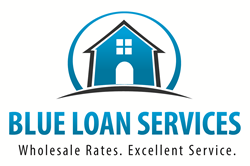 San Diego, CA (PRWEB) April 13, 2014
Mortgage rates had a wild ride last week; with rates improving (or at least not getting any worse) every day since the released of the jobs report, it seemed like maybe the mortgage rates rally might start to run out of steam. This was not the case however, as rates improved at their fastest levels in a month and moved the best levels in over a month last Friday and held the gains to close out the week. Now the question is – will mortgage rates see more improvement this week? Blue Loan Services, a full service California mortgage company that has been providing the lowest rates and best loan products for many years, comments on this current situation and gives some advice for those who are not sure how to best proceed with their home loan plans.
As can be seen in this post from Mortgage News Daily posted on the 11th, mortgage rates dropped in response to a big sell off in stocks. As to why there was a sudden stampede of investors selling off, there really is no clear reason. But the results were very clear – bonds, including MBS which inform mortgage rates, went up, as they are wont to do when stocks go down. Now when MBS (mortgage-backed securities) go up, mortgage interest rates go down and that is just what happened. As to if this improvement will continue in the week ahead, it really depends on whether stocks continue to sell off.
There is always a lot of uncertainty when it comes to predicting mortgage rates, because the factors that influence them change on a whim. There are some who say that there is still room for improvement in the coming week, but there is also a good chance rates have reached the lower limit and will start to head up soon. So how should mortgage borrowers proceed with their home loan plans? Blue Loan Services advises borrowers that they can hope for the best, but they should definitely prepare for the worst. One of the safest ways to do this is to lock in the current rates with a lender that allows for renegotiation. This will allow the borrower to keep current low rates as a safeguard in case rates rise, while keeping their options open if rates drop lower before they close on their home loan.
Blue Loan Services can help borrowers within California who wish to lock in the lowest CA mortgage rates to find the best possible lenders and loans for their situation and work quickly to get approved so that they can avoid higher rates down the line. Their fast online loan application and documentation portal makes it easy for clients to submit their application and keep track of their loan's progress. With a reputation for fast, reliable and courteous service, the company's team of experienced loan officers can be especially useful during this time.
For more information on how Blue Loan Services can help California home loan borrowers get approved for their home purchase loan or refinance quickly, please visit BlueLoanServices.com or call 1-888-929-BLUE (2583) to speak with an experienced mortgage professional.
CA Dept of Real Estate -- Licensed Broker #01094374 NMLS #938365