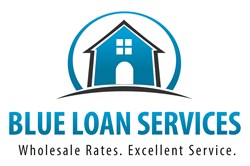 San Diego, CA (PRWEB) February 02, 2014
Blue Loan Services, a California full service mortgage company known for its great service, low mortgage rates and fees, and the best loan products and lenders, strives to keep borrowers updated on any news in the real estate and finance markets which could affect their home loan options or their ability to obtain affordable housing. Now, with the recent low mortgage rates the country has been enjoying, the company gives some advice on how mortgage seekers should proceed with their home loan plans.
A January 31st article from Mortgage News Daily explains that rates moved to the lowest levels of 2014 on that day, bringing them in line with levels not seen since November 2013. Loan originator, Victor Burek, added, "Today's rate sheets are the best I have seen in months as lenders finally passed along some of the recent improvements. Lots of important data next week including non farm payrolls on Friday. I strongly advise anyone closing within the next 30 days to go ahead and lock in today."
Blue Loan Services explains that the current low rates are part of a cycle between low and high rates, and that rates could start to increase at any time. This could happen very soon, especially with the economic data mentioned in the quote above just days away. This data could signal a turn around for rates and those who have not locked in the current rates could come to regret that they did not act sooner. However, there is a chance rates could move down even further, but because rates are predicted to be going up this year, Blue Loan Services explains that this is unlikely and that is safer to lock in the current mortgage interest rates and have the chance to renegotiate if rates fall considerably before the loan is closed.
Blue Loan Services can help those who wish to lock in today's low mortgage rates to find the best possible loans for their situation and work quickly to get approved so that they can avoid higher rates down the line. Their fast online loan application and documentation portal makes it simple for clients to submit their application and keep track of their loan's progress. With a reputation for fast, reliable and courteous service, the company's team of experienced loan officers can be especially useful during this time of rapidly changing mortgage rates.
For more information on how Blue Loan Services can help California home loan borrowers get approved for their home purchase loan or refinance quickly, please visit BlueLoanServices.com or call 1-888-929-BLUE (2583) to speak with an experienced mortgage professional.
CA Dept of Real Estate -- Licensed Broker #01094374 NMLS #938365