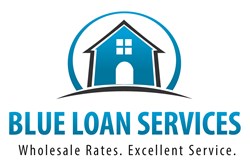 San Diego, CA (PRWEB) November 18, 2013
Blue Loan Services is a full service mortgage company that has been helping residents of California to find the best loan products and home loan rates for many years. The company, headed by the father and son team Robert and Brandon Blue, has been dedicated to serving its customers with honesty, integrity and competence. The Blue Loan Services team of mortgage professionals operates with the goal to provide home loans to its clients while providing them with the lowest wholesale interest rates and closing costs possible. The company's recent addition of lenders specializing in VA loans now enables Blue Loan Services to provide these very beneficial loans to those who have served in the United States armed forces. The currently low VA loan rates also enable the company to get their clients the highest amount of savings, which makes this loan option even more beneficial.
As U.S. Army veterans themselves, both Robert and Brandon Blue know how important it is for service members to secure good housing, so that they can rest assured that they and their families will always have a good place to live. VA loans were created to help do just this. With VA loans, many of the costs of regular loans are waived. Blue Loan Services' website lists some of the benefits of these loans here:

100% financing, no down payment loans are common.
No Private Mortgage Insurance (PMI).
No penalties if you prepay the loan.
Competitive interest rates.
Loan qualification is sometimes easier than if you were applying for a conventional loan.
Sellers can pay all closing costs.
Because of these benefits, one of the only things that VA loan borrowers need to worry about is mortgage interest rates. Luckily, rates have been going down in recent weeks, making things much easier for these borrowers. As a November 15th report from Mortgage News Daily says: "Mortgage rates fell just slightly today, though this wasn't the case for every lender. Rate quotes are likely to be at the same note rate as yesterday's, but with slightly lower borrowing costs on average. This means that the most prevalently quoted conforming 30yr fixed rate for ideal scenarios (best-execution) remains on the stronger end of 4.375%, with 4.25% becoming increasingly viable."
With Blue Loan Services connection to new VA specialized lenders, as well as their reputation for fast, professional and courteous service, veterans who choose to take advantage of their service will have the best chances of a quick and hassle free VA loan process and the lowest mortgage rate possible.
For more information on how Blue Loan Services can help California home loan borrowers get approved for their VA home purchase loan or refinance quickly, please visit BlueLoanServices.com or call 1-888-929-BLUE (2583) to speak with an experienced mortgage professional.
CA Dept of Real Estate -- Licensed Broker #01094374 NMLS #938365