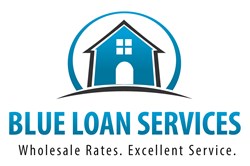 San Diego, CA (PRWEB) December 10, 2013
Blue Loan Services is a full service mortgage company that has provided California mortgage borrowers with a wide range of loan products, the best wholesale mortgage rates and the lowest closing costs and fees for quite a few years. The father and son team that lead the Blue Loan Services team of mortgage professionals, Robert and Darin Blue, have been dedicated to serving California residents with honesty, integrity and competence with the goal of providing the best possible mortgage products for their needs and the highest possible savings over the lives of their loans. The Blue Loan Services team keeps continuously vigilant of any changes in the finance and real estate industries which could affect the home loan rates or mortgage products available to their clients. Now, with the results of the recent NFP report causing lower mortgage rates than expected, Blue Loan Services gives some insight into how mortgage borrowers can use this dip in rates to their advantage.
As was stated in a December 9th report from Mortgage News Daily, "Mortgage rates took Friday's improvements one step further today, moving slightly lower. The most prevalently quoted rates remain between 4.5 and 4.625 percent for ideal, conforming 30yr Fixed scenarios (best-execution) with the improvements being seen in the form of lower costs. For the sake of reference and comparison, today's rates fall somewhere between last Wednesday's and Tuesday's for almost all lenders." Blue Loan Services explains for those who have not been keeping abreast of recent news in the mortgage industry, the lower rates are actually an unexpected and very pleasant surprise, as many people had speculated that a strong NFP report would result in much higher rates.
Instead, while the report was strong, it appears that investors were prepared for much more drastic results and thus rates leveled off and even dipped lower than the days prior to the release of the report. Now that rates are low again, there are undoubtedly those who are wondering if now is the right time to lock in their rate if they have a pending loan application, or if it is a good time to find a home loan and lock on application. There are also those who are wondering whether they should wait it out to see there will be even lower home loan rates. Blue Loan Services explains that while floating a rate might be tempting, those who want to play it safe should consider locking in their rates as soon as they can. As the above quoted report also says:
"The week will continue to be light in terms of scheduled events and investors' focus is already mostly turned toward next week's FOMC Announcement. That's the Fed policy statement at which some market participants think the Fed could move to reduce asset purchases."
The upcoming FOMC meeting will be the real market mover, since if the Fed does decide to reduce asset purchases rates will likely shoot up very quickly. Because of this it could be a better idea to settle for today's low rates as long as they are in an acceptable range for the borrower's needs. Blue Loan Services can help those who wish to lock in the current rates to find the best possible loans for their situation and work quickly to get approved so that they can avoid higher rates down the line. Their fast online loan application and documentation portal makes it simple for clients to submit their application and keep track of their loan's progress. With a reputation for fast, reliable and courteous service, the company's team of experienced loan officers can be especially useful during this time of rapidly changing mortgage rates.
For more information on how Blue Loan Services can help California home loan borrowers get approved for their home purchase loan or refinance quickly, please visit BlueLoanServices.com or call 1-888-929-BLUE (2583) to speak with an experienced mortgage professional.
CA Dept of Real Estate -- Licensed Broker #01094374 NMLS #938365