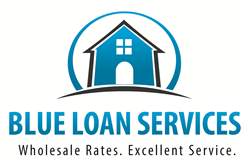 San Diego, CA (PRWEB) April 10, 2014
Mortgage rates fell at the fastest pace in a month resulting in the lowest mortgage rates seen in over a month today, due to a big move towards safer-haven assets including mortgage-backed securities which directly influence mortgage rates. Rates have been steadily falling in small increments or remaining unchanged over the past week, but this new development brings rate levels into new territory. Blue Loan Services, a full service California mortgage company that has been providing the lowest rates and best loan products for many years, comments on this current situation and gives some advice for those who are not sure how to best proceed with their home loan plans.
An April 10th report from Mortgage News Daily says, "Mortgage rates began the day without any hint of the drama that was to come. The first rate sheets of the day were little-changed compared to yesterday's latest offerings. Then markets of all shapes and sizes went on a fairly wild ride. Stock markets and currencies took part in a massive move toward safer-haven assets without any obvious catalyst. While such herd-like movements can happen often in financial markets, they're rarely this big. Today's resulted in more than 30 points of weakness in the S&P at times. As far as mortgage rates are concerned, they fell at the fastest pace of the month to their lowest levels in over a month after lenders released better rate sheets in the afternoon--some of them more than once."
Blue Loan Services explains that this surprise move downward for home loan rates is very welcome news, especially for those who have been holding out for better mortgage interest rates. The question now is whether or not the improvement will continue. While it is impossible to accurately judge where rates will head (especially since there is no real cause and effect in play to explain the move towards bonds that is lowering rates) if bond rates remain the same tomorrow, rates will likely further improve and even more so if bonds do better than today. This means that those who are just starting their loan process can view floating (at least for now) as a low risk, high reward bet. However, in this situation Blue Loan Services also stresses the importance of having a loan officer that is on the alert and can inform borrowers if rates seem to be turning around so that they can make the decision to lock their loan rate and avoid losing any gains.
Blue Loan Services can help borrowers within California who wish to lock in the lowest mortgage rates to find the best possible lenders and loans for their situation and work quickly to get approved so that they can avoid higher rates down the line. Their fast online loan application and documentation portal makes it easy for clients to submit their application and keep track of their loan's progress. With a reputation for fast, reliable and courteous service, the company's team of experienced loan officers can be especially useful during this time.
For more information on how Blue Loan Services can help California home loan borrowers get approved for their home purchase loan or refinance quickly, please visit BlueLoanServices.com or call 1-888-929-BLUE (2583) to speak with an experienced mortgage professional.
CA Dept of Real Estate -- Licensed Broker #01094374 NMLS #938365