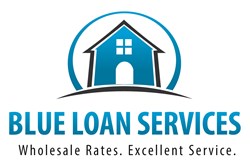 San Diego, CA (PRWEB) January 14, 2014
Blue Loan Services has been helping California mortgage borrowers to get the best home financing deals for their needs for many years. The company, which is headed by father and son team Robert and Brandon Blue, is dedicated to serving its clients with honesty, integrity and competence, while providing them with the top loan products, the best wholesale mortgage rates, and the lowest closing costs and fees. The Blue Loan Services team of mortgage professionals is also continuously seeking to keep their clients updated on any changes in the mortgage and finance industries which could affect their home loan options. Recently, California home loan borrowers have been pleasantly surprised with a decrease in mortgage interest rates. Blue Loan Services explains why borrowers should take advantage of this reduction while it lasts.
A January 13th report from Mortgage News Daily says, "Mortgage rates continued lower at a fairly brisk pace today, extending the already impressive drop that followed Friday's employment data. By Friday afternoon, the longstanding 4.625% best-execution rate was sharing equal space with 4.5%. Today's improvement results in 4.5% standing alone as the most prevalently-quoted conforming 30yr fixed rate for ideal loan scenarios. There continues to be a fairly large gap between rates in terms of the cost required to buy down to 4.375%. This significant shift lower in rates is now on par with that seen in September when the Fed held off tapering. That more than qualifies it as one of the pockets of recovery running counter to the longer-term trend toward higher rates. In other words, if we think of the overall path as 2 steps higher, 1 step lower, this would be the latter."
Blue Loan Services explains that this decrease is a great opportunity for home loan borrowers to lock in a low home loan rate. The reduction comes on the tail of a weaker than expected Jobs Report last Friday. The California mortgage company explains that there is a chance rates could see even more improvement in the days to come, which means that some borrowers may find it advantageous to float their rate. If they do this, though, the company explains that they should do so very cautiously, as rates could turn around at any time. However, the safest way to take advantage of these low mortgage rates is simply to lock in now, or on application if the borrower does not yet have a loan in process. Rates are still expected to be going up this year, so taking advantage of these "pockets of recovery", as the quote above states, is the best way to save money on a home loan.
Blue Loan Services can help those who wish to lock in today's low mortgage rates to find the best possible loans for their situation and work quickly to get approved so that they can avoid higher rates down the line. Their fast online loan application and documentation portal makes it simple for clients to submit their application and keep track of their loan's progress. With a reputation for fast, reliable and courteous service, the company's team of experienced loan officers can be especially useful during this time of rapidly changing mortgage rates.
For more information on how Blue Loan Services can help California home loan borrowers get approved for their home purchase loan or refinance quickly, please visit BlueLoanServices.com or call 1-888-929-BLUE (2583) to speak with an experienced mortgage professional.
CA Dept of Real Estate -- Licensed Broker #01094374 NMLS #938365