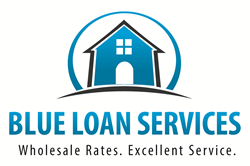 San Diego, CA (PRWEB) April 11, 2014
Mortgage rates fell by 0.01 percent on average today; not much of a game changer, true, but it does mean that rates have not lost the big gains won yesterday and any improvement (no matter how small) is a win when it comes to saving money on mortgage interest rates. Now the question is – will rates continue to improve next week? Blue Loan Services, a full service California mortgage company that has been providing the lowest rates and best loan products for many years, comments on this current situation and gives some advice for those who are not sure how to best proceed with their home loan plans.
An April 11th report from Mortgage News Daily explains, "Mortgage rates managed to hold on to yesterday's big improvements as markets held very steady by comparison today. If there's a slight bias, it's positive for bond markets, resulting in most lenders moving to just slightly better rates today. The movement is small enough that most scenarios will only see it in the form of lower closing costs. When adjusted for the drop in closing costs, rates fell by 0.01 today on average. The most prevalently quoted conforming 30yr fixed rate for best-case scenarios (best-execution) remains split between 4.25 and 4.375%--newly acquired territory as of yesterday."
Blue Loan Services explains that the reason rates went down so fast yesterday was mainly due to weakness in stocks – however there was not any obvious motivation for this weakness. While the reason for the sell-off of stocks is not clear, the fact is that stocks are often inversely related to bonds – weakness in stocks usually means stronger bonds and vice versa. This was the case yesterday and this resulted in lower rates since mortgage rates take their cues from bonds, especially mortgage-backed securities which most directly influence home loan rates.
What does this mean for California borrowers next week? It means there is still a chance rates could remain at these new low levels or even improve further if stocks continue to sell off. But, there is also a chance that the rate rally could lose momentum and start correcting to higher rates again. Because of this, the mortgage company suggests that those who do not want to lose any of the gains seen this week lock in as soon as they can, preferably with a lender that allows for renegotiation. By doing this, they will ensure that they have a great rate locked in but still have the option to renegotiate if better rates show up before they close on their loan.
Blue Loan Services can help borrowers within California who wish to lock in the lowest mortgage rates to find the best possible lenders and loans for their situation and work quickly to get approved so that they can avoid higher rates down the line. Their fast online loan application and documentation portal makes it easy for clients to submit their application and keep track of their loan's progress. With a reputation for fast, reliable and courteous service, the company's team of experienced loan officers can be especially useful during this time.
For more information on how Blue Loan Services can help California home loan borrowers get approved for their home purchase loan or refinance quickly, please visit BlueLoanServices.com or call 1-888-929-BLUE (2583) to speak with an experienced mortgage professional.
CA Dept of Real Estate -- Licensed Broker #01094374 NMLS #938365