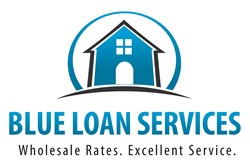 San Diego, CA (PRWEB) August 02, 2013
Blue Loan Services is a full service mortgage company that has been providing California home loan borrowers with the best wholesale home purchase and refinance rates, as well as access to the most trusted California mortgage lenders and specialized loan products for many years. The company offers the best in full service mortgages with its easy to use and customer-friendly website that provides many instrumental tools to help home owners and home buyers achieve their desired mortgage goals to accommodate their financial standing and livelihood, along with the newest mortgage trends and mortgage related issues. With mortgage rate predictions seeming pretty bleak since June's sharp increases in interest rates many homeowners have been wondering how they should proceed with finding the best loan products for their unique situations. Blue Loan Services' website offers a number of resources that can help homeowners and buyers to make the best decisions when it comes to their mortgage plans, notably their new mortgage calculators which enable visitors to BlueLoanServices.com to test out a number of different loan scenarios for free.
The website offers 19 new mortgage calculators that can help borrowers to determine things such as which loan option would benefit them the most, if they would be able to save money by shortening or lengthening their loan term, how they can best reduce their credit debt, what size loan they would be able to qualify for, as well as get answers to many other aspects of choosing the best loan. These calculators are offered free of charge and those who would like to use them will only need to input the right information into the provided data fields to get the results of their calculation almost instantaneously.
There are a number of benefits to using mortgage calculators, especially now as rates increase and finding the best loan terms is more important than ever. One of the primary benefits of these calculators is that borrowers can use them as often as they wish without the hassle of having to call a loan officer simply to get the same answer. They may also be used at any time, day or night, so there is no need to worry about office hours. But probably the greatest advantage of utilizing these calculators is that they can give borrowers a very good idea of what their financial obligation would be like if they were to attain the specific loan product or term that they are calculating for. This is, of course, only a best estimate, and there may be other fees involved in closing a loan. However, many calculators allow for the inclusion of closing cost fees, taxes and other financial aspects of the loan process, in the calculation in order to get the most accurate results for the borrower.
Once the borrower has a good idea of what loan option they would like to avail of, they can call the experts at Blue Loan Services to ensure that it is, indeed, the best possible deal and then start the application process if they are ready to do so. With their specialty in home purchase and refinance loans, Blue Loan Services is ready and able to help owners, borrowers and purchasers secure their rates as soon as they can. With their easy loan application, borrowers will be able to find the best loan rates within minutes, and the fast online service from the company will help facilitate the fastest possible loan processing times and other home buyer's needs.
For more information on the services and products offered by the Blue Loan Services team, click here or call 1-888-929-BLUE (2583) to speak to an experienced mortgage professional.
CA Dept of Real Estate -- Licensed Broker #01094374 NMLS #938365