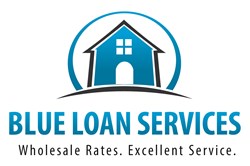 San Diego, CA (PRWEB) December 06, 2013
Blue Loan Services, a full service mortgage company headed by father/son team Robert and Brandon Blue, is offering their services to home loan borrowers who wish to obtain the highest mortgage savings despite the increase in rates that is being seen this December. The top rated California company has been providing the best wholesale mortgage rates, the lowest closing costs and the best loan products to California home loan borrowers for many years. The Blue Loan Services team of mortgage professionals keeps continuously vigilant of any changes in the finance and real estate industries which could affect the home loan rates or mortgage products available to their clients. Now, with mortgage rate trends moving higher ahead of some very important economic reports, there are certainly many borrowers that are wondering where rates will move next and how they should continue with their home loan plans.
As a report from Mortgage News Daily, posted on December 3rd, states: "Mortgage rates began the day steady to slightly lower on average, though more than a few lenders were actually in worse shape. The average stayed in slightly stronger territory but that may change by the end of the day as losses in the Secondary Mortgage Market are prompting some lenders to recall rate sheets and reprice slightly higher. This won't affect the prevailing interest rate quotes, which now average 4.5% (best-execution), but it would increase the associated closing costs."
Blue Loan Services notes that these average rates are a continuation of a slowing rising trend in mortgage rates. However, the company also warns that, while it is possible rates could start improving, there is also a chance that they will turn from "slowly rising" to rising very quickly over the next few weeks. This is primarily dependent on what this Friday's jobs report will bring, as strong data will very likely come into play when the FOMC meets this month to decide, among other things, when they will start to taper their stimulus spending. The stronger the data the more likely the Fed is seen as reducing asset purchases. Rates would definitely rise under this scenario.
As the above quoted article continues: "There is a glut of data tomorrow morning, and if it's even remotely cohesive in suggesting economic strength, rates could be higher with the first rate sheets of the morning. Weak data, on the other hand, might afford some breathing room between now and Friday, but ultimately the jobs data will decide where rates go." Because of the uncertainty surrounding the Jobs report, and very real possibility that rate trends could continue going up, and possibly at an even faster pace, it would be advisable for any borrowers who are near closing to lock in the current mortgage rates if they fall within an acceptable range for their needs.
Blue Loan Services can help those who wish to lock in the current rates to find the best possible loans for their situation and work quickly to get approved so that they can avoid higher rates down the line. Their fast online loan application and documentation portal makes it simple for clients to submit their application and keep track of their loan's progress. With a reputation for fast, reliable and courteous service, the company's team of mortgage professionals can be especially useful during this time of rapidly changing mortgage rates.
For more information on how Blue Loan Services can help California home loan borrowers get approved for their home purchase loan or refinance quickly, please visit BlueLoanServices.com or call 1-888-929-BLUE (2583) to speak with an experienced mortgage professional.
CA Dept of Real Estate -- Licensed Broker #01094374 NMLS #938365