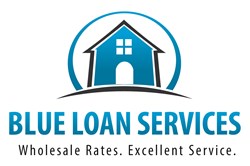 San Diego, CA (PRWEB) November 28, 2013
Blue Loan Services, a full service California mortgage company, has been offering low wholesale rates and the best loan products for many years. The company, headed by the father and son team Robert and Brandon Blue, has been dedicated to serving its customers with honesty, integrity and competence. In order to continue offering the best services to their clients, the company continuously stays up to date on any changes in the mortgage industry and financial world, especially when it comes to changes in mortgage interest rates. Now, with mortgage rates in California increasing right before the Thanksgiving holidays, many borrowers that are close to closing may be wondering how they should proceed with their rate lock strategy.
As was reported by a November 27th report from Mortgage News Daily: "Mortgage rates moved decidedly higher today, bringing most lenders back in line with their highest recent rate sheet offerings from November 12th. In many cases, this may result in a quoted rate being an eighth of a percentage point higher today compared to yesterday, depending on the lender and scenario. In other cases, the weakness will be seen in the form of higher closing costs or lower lender credit. With today's rise, the most prevalently quoted conforming 30yr fixed rate for ideal scenarios (best-execution) is moving up to 4.5% though some lenders remain better-priced at 4.375%."
Blue Loan Services notes that this move upwards is slightly unexpected, given that usually mortgage interest rates tend to level off before holidays, but that this should not be a cause for too much concern for borrowers. The same article mentioned above also states: "There is a lot to consider with this move higher. Certainly, the holidays can affect bond market trading, especially in the mortgage-backed-securities (MBS) that most directly influence mortgage rates. The most common side-effect is that there are fewer market participants at work making for a less liquid secondary mortgage market. Fewer participants and lower volume means that prices (and therefore rates) can move more quickly than they otherwise might. We've definitely seen some of this, and on such occasions it's not uncommon to see a bit of a correction back in the other direction after an extended holiday weekend."
However, Blue Loan Services warns that while a correction after the holiday is something that borrowers can definitely hope for, it should not be something that they are counting on. Rates can really go either way depending on a number of factors, which is why the safest bet is always to go with what is available at moment, provided the rates are within an acceptable range. But, whether the borrower decides to lock in today's rates, or float in hopes of better rates down the line, Blue Loan Services is there to assist. The team of experienced mortgage professionals will ensure that their clients have the right loan product for their needs and the lowest rates available at the time that they decide to lock in their rates. With a fast and easy loan process, made possible by Blue Loan Services' online loan application and documentation portal, those who wish to lock in quickly will have the best chances of getting in on today's low rates.
For more information on how Blue Loan Services can help California home loan borrowers get approved for their home purchase loans or refinances quickly, please visit BlueLoanServices.com or call 1-888-929-BLUE (2583) to speak with an experienced mortgage professional.
CA Dept of Real Estate -- Licensed Broker #01094374 NMLS #938365