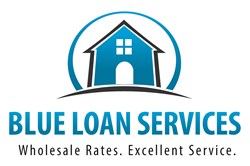 San Diego, CA (PRWEB) January 25, 2014
Blue Loan Services is a full service mortgage company that has been helping residents of California to find the best loan products and home loan rates for many years. The company, headed by the father and son team Robert and Brandon Blue, has been dedicated to serving its customers with honesty, integrity and competence. The Blue Loan Services team of mortgage professionals operates with the goal to provide home loans to its clients while providing them with the lowest wholesale interest rates and closing costs possible. Now, with mortgage rates in California moving back to 2014 lows, the mortgage company gives some advice to those looking for the best mortgage deals.
A recent article from Mortgage News Daily, posted on January 23rd, explains, "Mortgage rates snapped quickly lower today, matching or beating the best levels seen so far in 2014. Weakness over the past two days threatened to carry rates out of the recently narrow, low range enjoyed since this month's Employment Situation report on the 10th. Today's improvement decisively preserves that range and introduces the possibility that rates could break out of the range on the other side. 4.5% remains the most prevalently quoted conforming 30yr fixed rate for ideal scenarios (best-execution). When adjusted for day to day changes in closing costs, rates fell an equivalent of 0.03% today."
The same article goes on to explain, "Yesterday, we discussed the possibility that rates were coming to a crossroads ahead of next week's FOMC Announcement. Given the 2 days of weakness, the risk was that we would start down a less friendly path with any further weakness today. Instead, we got the complete opposite. Even though it was an abrupt reversal from the first two days of weakness this week, the near-term outlook is still dominated by next week's FOMC Announcement."
Blue Loan Services suggests that this new drop in rates makes for a very good opportunity for many California mortgage seekers to save money on their home loans. The company explains that while it is a possibility that rates might move lower before next week's announcement, it is unlikely that this downward trend will last for very long. All 2014 mortgage rate predictions show rates moving upwards throughout the year, so any time rates drop should be seen as a good opportunity for borrowers to lock in and save on their loan.
Blue Loan Services can help those who wish to lock in today's low mortgage rates to find the best possible loans for their situation and work quickly to get approved so that they can avoid higher rates down the line. Their fast online loan application and documentation portal makes it simple for clients to submit their application and keep track of their loan's progress. With a reputation for fast, reliable and courteous service, the company's team of experienced loan officers can be especially useful during this time of rapidly changing mortgage rates.
For more information on how Blue Loan Services can help California home loan borrowers get approved for their home purchase loan or refinance quickly, please visit BlueLoanServices.com or call 1-888-929-BLUE (2583) to speak with an experienced mortgage professional.
CA Dept of Real Estate -- Licensed Broker #01094374 NMLS #938365