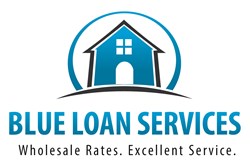 San Diego, CA (PRWEB) January 26, 2014
As a full service California mortgage company, Blue Loan Services has always aimed to provide their clients with the lowest wholesale mortgage rates and fees, the best loan products, access to the top rated lenders, and dedicated service which makes it easier for borrowers to find the right loan. The team of experienced loan officers, headed by the father-son team Robert and Brandon Blue, is committed to serving clients with honesty, integrity and competence. The company also regularly updates their clients on any news in the real estate and finance industries that could affect their ability to obtain affordable home financing. Over the past few days mortgage rates in California have taken an unexpected turn downwards. Blue Loan Services gives some information about this decrease and offers advice for those seeking the lowest mortgage rates.
As a January 24th report from Mortgage News Daily explains, "Mortgage rates continued a strong move lower today, benefiting from a global sell-off in risk-related assets. What's a risk-related asset? In this case, it's a catch-all term for investments that carry greater risk and greater reward, such as stocks and emerging market currencies. When risk-assets get trounced, bond markets are often one of the safe-haven beneficiaries, and stronger bond markets mean lower mortgage rates."
The same article continues, saying, "In the current case, and indeed in most cases where there is a large tidal exchange across the risk spectrum, mortgage rates aren't able to fall as quickly as more direct beneficiaries like Treasuries. Still, they're falling. Most of the improvement has been in the form of lower closing costs for the same interest rates quoted yesterday, but some borrowers may be an eighth of a point lower today. 4.5% remains the most prevalently quoted conforming 30yr fixed rate for ideal scenarios (best-execution), but 4.375% is VERY close at several lenders. When adjusted for day to day changes in closing costs, rates fell an equivalent of 0.03-0.04% today."
So, how should borrowers proceed with their loan plans given the current situation? Blue Loan Services explains that while this downward trend may carry into the next week, there is a big chance that Wednesday's FOMC announcement could put a stop to the momentum. If the Fed decides to take a more relaxed stance on their bonds buying tapering, this could be another story. However, this is unlikely to happen, and unless the global market puts pressure on rates to continue downward, rates could bounce higher very quickly. Because of this, Blue Loan Services advises that the best course of action is probably to lock in the current rates, especially if the borrower is near to closing their loan, or float very, very cautiously, with a close eye on any signs that rates might be reversing.
Blue Loan Services can help those who wish to lock in today's low mortgage rates to find the best possible loans for their situation and work quickly to get approved so that they can avoid higher rates down the line. Their fast online loan application and documentation portal makes it simple for clients to submit their application and keep track of their loan's progress. With a reputation for fast, reliable and courteous service, the company's team of experienced loan officers can be especially useful during this time of rapidly changing mortgage rates.
For more information on how Blue Loan Services can help California home loan borrowers get approved for their home purchase loan or refinance quickly, please visit BlueLoanServices.com or call 1-888-929-BLUE (2583) to speak with an experienced mortgage professional.
CA Dept of Real Estate -- Licensed Broker #01094374 NMLS #938365