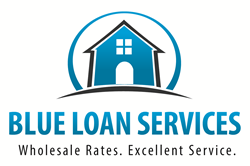 San Diego, CA (PRWEB) March 21, 2014
After news from the Fed caused rates to increase sharply then level off in the past few days, mortgage rates actually managed to improve today, ending the business week just slightly lower. Blue Loan Services, a full service California mortgage company that has been providing the lowest rates and best loan products for many years, comments on this current situation and gives some advice for those who are not sure how to best proceed with their home loan plans.
A March 21st report from Mortgage News Daily states, "Mortgage rates managed to move lower today, generally erasing yesterday's increases. There was very little by way of market-moving events to motivate the changes. Considering that yesterday's higher rates were contrary to the underlying market movement, today can be viewed as more of a correction to previous volatility, with no profound comment on future momentum. Whereas the most prevalently quoted conforming 30yr rate for top-tier scenarios (best-execution) had been closing in on 4.625%, today's strength keeps 4.5% firmly intact for now. When adjusted for day-to-day changes in closing costs, rates are 0.03% lower on average today."
Blue Loan Services explains that the more straight forward approach of new Fed Chair, Janet Yellen, is actually good news for mortgage markets and mortgage seekers. While last year was marked by uncertainty and speculation as to how market data would possibly affect the policy decisions of the Fed, under the new leadership it is much clearer what is going on and how the Fed will proceed. This bluntness is what initially caused rates to rise so quickly this week as, when pressed for more info about when the FFR would be increased, Yellen gave a straight answer that amounted to – sooner than what everyone had expected. While this did lead to a sharp increase initially, rates quickly leveled off and are even slightly recovering.
Because of this more open Fed policy, mortgage seekers can now know more about how rates will turn based on economic data that is released. With this in mind, it might be a good idea for borrowers to float over the weekend to see how data will affect rates. However, the mortgage company warns that those who float should do so carefully and be ready to lock if rates seem like they are poised to go up or if there is a dip in rates that could make for a good rate lock opportunity.
Blue Loan Services can help those who wish to lock in today's low mortgage rates to find the best possible loans for their situation and work quickly to get approved so that they can avoid higher rates down the line. Their fast online loan application and documentation portal makes it simple for clients to submit their application and keep track of their loan's progress. With a reputation for fast, reliable and courteous service, the company's team of experienced loan officers can be especially useful during this time of uncertainty in mortgage rates.
For more information on how Blue Loan Services can help California home loan borrowers get approved for their home purchase loan or refinance quickly, please visit BlueLoanServices.com or call 1-888-929-BLUE (2583) to speak with an experienced mortgage professional.
CA Dept of Real Estate -- Licensed Broker #01094374 NMLS #938365