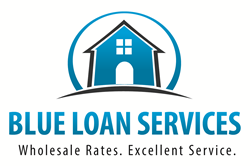 San Diego, CA (PRWEB) April 07, 2014
After going up to their highest levels in months, mortgage rates rallied after an average NFP report and news from Europe about a quantitative easing program. Now, mortgage rates in California and the rest of the country are averaging out at the lowest levels they have been for several weeks. Blue Loan Services, a full service California mortgage company that has been providing the lowest rates and best loan products for many years, comments on this current situation and gives some advice for those who are not sure how to best proceed with their home loan plans.
An April 7th report from Mortgage News Daily says, "Mortgage rates fell again today, bringing them to levels not seen since March 18th for many lenders. While there was no significant economic data today, rates benefited in part from the ongoing weakness in stocks, which are on pace for their worst 2-day loss since January. When investors are pulling money out of stocks, the bond market can be one of the beneficiaries, including the mortgage-backed-securities (MBS) that most directly affect mortgage rates. Increasing demand for MBS corresponds to lower rates, all things being equal. Before Friday's important jobs report (which caused the first major leg down in this rate rally), mortgages hadn't fared too well during the previous 4 days. The most prevalently quoted conforming 30yr fixed rate for best-case scenarios (best-execution) was approaching 4.625% on Wednesday. It moved quickly back to 4.5% on Friday, and is now already on the doorstep of 4.375%."
Blue Loan Services explains that these new low levels have potential to continue this week, and maybe even move slightly lower. This all depends on how things play out this week, however, especially in the equity market. There is also past precedent for a "leveling off" after such strong movement over a short time frame and this, as always, should lead borrowers to be very cautious when it comes to the decision to lock or float. Of course, as Blue Loan Services often points out, the safest course of action is to lock in today's mortgage rate gains with a lender that allows for renegotiation, and then whether rate continue down, or start heading up again, the borrower will have a great mortgage rate to hold onto.
Blue Loan Services can help borrowers within California who wish to lock in today's lowest mortgage rates to find the best possible lenders and loans for their situation and work quickly to get approved so that they can avoid higher rates down the line. Their fast online loan application and documentation portal makes it simple for clients to submit their application and keep track of their loan's progress. With a reputation for fast, reliable and courteous service, the company's team of experienced loan officers can be especially useful during this time.
For more information on how Blue Loan Services can help California home loan borrowers get approved for their home purchase loan or refinance quickly, please visit BlueLoanServices.com or call 1-888-929-BLUE (2583) to speak with an experienced mortgage professional.
CA Dept of Real Estate -- Licensed Broker #01094374 NMLS #938365