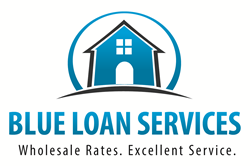 San Diego, CA (PRWEB) February 26, 2014
After jumping to the highest level in a month on Monday this week, mortgage rates have dropped down to the lowest levels in two weeks. The decrease in mortgage interest rates is great news for those who are looking for a chance to lock in a good rate for their home purchase loan or refinance. Blue Loan Services, a full service California mortgage company that has been providing the lowest rates and best loan products for many years, comments on this current situation and gives some advice for those who are not sure how to best proceed with their home loan plans.
A February 26th report from Mortgage News Daily explains, "Mortgage rates built on yesterday's strength and continued lower today. After lenders released rate sheet improvements in the afternoon, the average offering was right in line with the low rates seen on February 13th or 6th. While Monday's run up to 1-month highs briefly shifted the most prevalently quoted rates an eighth of a percentage point higher, the past 2 days of strength brings us back to a 4.375% Conforming 30yr fixed rate for the very best borrower scenarios (best-execution). Some instances of 4.5% may still be viable, but buying down to 4.25% becomes increasingly attractive if we hold here or move lower."
Blue Loan Services explains that the new lower rates are despite the fact that the New Home Sales report released earlier today was stronger than expected. Strong economic data like this would usually push rates upward, especially right now as bad weather is being used as an excuse for any weakness in economic reports. However, the decrease may be traced back to things such as the strong 5yr Treasury auction. While Treasuries do not directly dictate mortgage interest rates, they do have some influence on which way they head.
Whatever the case may be, the low mortgage rates that are available right now are a good reason for those who have been waiting for lower rates to lock in their loans. There has been a lot of uncertainty in bond markets spilling over to mortgage rates, and there is no sure way of knowing whether the next move will be lower or even higher than before. Because of this, Blue Loan Services generally advises borrowers to lock in their loan rate if the current rates fall within an acceptable range for their needs. If they do this, they may still have the option to renegotiate their rate if rates fall significantly before they close on their loan. However, those who do not lock in will not have the option to go back to previously lower rates.
Blue Loan Services can help those who wish to lock in today's low mortgage rates to find the best possible loans for their situation and work quickly to get approved so that they can avoid higher rates down the line. Their fast online loan application and documentation portal makes it simple for clients to submit their application and keep track of their loan's progress. With a reputation for fast, reliable and courteous service, the company's team of experienced loan officers can be especially useful during this time of uncertainty.
For more information on how Blue Loan Services can help California home loan borrowers get approved for their home purchase loan or refinance quickly, please visit BlueLoanServices.com or call 1-888-929-BLUE (2583) to speak with an experienced mortgage professional.
CA Dept of Real Estate -- Licensed Broker #01094374 NMLS #938365