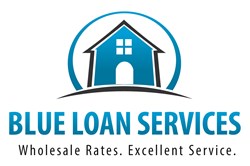 San Diego, CA (PRWEB) December 19, 2013
Blue Loan Services, a California based full service mortgage company that has been operated by father and son duo, Robert and Brandon Blue, for many years, gives mortgage seekers some advice on the mortgage rates hike that will occur in April next year. The Blue Loan Services team of mortgage professionals is dedicated to providing the best loan products and the lowest wholesale interest rates and fees by connecting borrowers with the top California lenders and real estate agents. The company is also continuously informing clients of any changes in the mortgage or finance world that could affect mortgage availability or affordability. The news has been full of talk of rates moving upwards in the new year, primarily due to cut backs on the Fed's QE3 spending, but new adjustments to FHFA fees will also deal a big blow for mortgage borrowers.
A December 17th report from Mortgage News Daily explains, "As loan officers and borrowers prepare for the Federal Open Market Committee's ("the Fed") potential tapering announcement Wednesday, Fannie Mae and Freddie Mac ("the GSEs") Tuesday released new pricing adjustments that dramatically raise costs for borrowers in 2014. The new fees are mandated by the Federal Housing Finance Agency (FHFA) as a part of their strategic plan to encourage private capital to reenter the mortgage market, which is currently dominated by the GSEs."
Blue Loan Services explains that the part of the fee increase that has come as a surprise is the big jump in Loan Level Price Adjustments (LLPAs). The MND article goes on to say, "In the original announcement about the fee increases, the FHFA said that LLPAs would be changing to more appropriately align costs with credit risk, but that did little to prepare mortgage market participants for the magnitude of the changes. What sounded like a bit of shuffling was revealed yesterday to be an across the board hike for anyone borrowing more than 60% of their home's value. In some cases, these hikes are severe. The blanket base increase of 0.25% will end up netting out to 0.00% in many cases due to the removal of 0.25% "Adverse Market Delivery Charge" (AMDC) in all states except CT, FL, NY, and NJ."
Blue Loan Services warns that while this will hurt those with lower credit scores and less equity the most, it will also even affect those with credit scores that would currently qualify for best pricing, since the required score will go up from 740 (the current requirement) to 800. These changes will go into effect in April 2014, but lenders will likely start to adjust their rate sheets prior to the actual date the adjustments are put into place. Because of this, Blue Loan Services advises borrowers who are looking for the best mortgage rates to seriously consider finding the right loan and locking in their rate now.
Blue Loan Services can help those who wish to lock in the current rates to find the best possible loans for their situation and work quickly to get approved so that they can avoid higher rates down the line. Their fast online loan application and documentation portal makes it simple for clients to submit their application and keep track of their loan's progress. With a reputation for fast, reliable and courteous service, the company's team of experienced loan officers can be especially useful during this time of rapidly changing mortgage rates.
For more information on how Blue Loan Services can help California home loan borrowers get approved for their home purchase loan or refinance quickly, please visit BlueLoanServices.com or call 1-888-929-BLUE (2583) to speak with an experienced mortgage professional.
CA Dept of Real Estate -- Licensed Broker #01094374 NMLS #938365