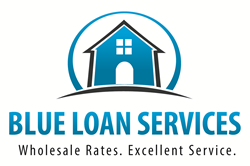 San Diego, CA (PRWEB) March 12, 2014
Mortgage rates moved lower today, erasing the losses of last Friday. Rates had stabilized over Monday and Tuesday of this week after the sharp increase of last week, but finally gained a decent move lower after today's 10 year Treasury auction. Blue Loan Services, a full service California mortgage company that has been providing the lowest rates and best loan products for many years, comments on this current situation and gives some advice for those who are not sure how to best proceed with their home loan plans.
A March 12th report from Mortgage News Daily states, "Mortgage rates moved lower at their best pace of the week today, undoing the damage from last Friday's Employment Situation report, and about a third of the week's total losses. Whereas yesterday's activity in the secondary mortgage market was volatile, today's was less so, drawing strength from a well-subscribed 10yr Treasury auction. Treasuries do not directly affect mortgage rates, but they often set the tone for other low risk fixed-income investments such as mortgage-backed securities (which DO directly affect mortgage rates). 4.5% recently took over as the most prevalently quoted conforming 30yr Fixed rate for the best-qualified borrowers (best-execution). Today's gains begin to chip away at that and bring 4.375% back into view, though we'd need to see a bit more positivity for it to unseat 4.5%. When adjusted for day-to-day changes in closing costs, rates moved lower by an equivalent of 0.03% today."
Blue Loan Services explains that this is an encouraging sign for California mortgage borrowers and with any luck this new trend may continue for a time. What potential mortgage borrowers, or those who are already going through their loan applications, should take into account at this time is that tomorrow's Retail Sales report could either undo all of today's mortgage rate gains, if the report comes back strong or even stronger than expected, or it could provide motivation for further decreases if the data is weaker than expected.
Because of this the loan company suggests that there may be some benefit to cautiously floating and waiting to see if rates improve. There are a number of other factors, such international drama, which could put more pressure on rates to go down, but unfortunately there is no way to tell if this will be the case, or if rates will start to rise again. Those who are unwilling to risk higher rates should feel confident to lock in current mortgage rates, since they will definitely be able to benefit from some savings over last week's ending rates. However, those who would like to risk floating should do so very cautiously, with a close eye on upcoming events and a finger on the "lock button" if it appears rates are about to rise again.
Blue Loan Services can help those who wish to lock in today's low mortgage rates to find the best possible loans for their situation and work quickly to get approved so that they can avoid higher rates down the line. Their fast online loan application and documentation portal makes it simple for clients to submit their application and keep track of their loan's progress. With a reputation for fast, reliable and courteous service, the company's team of experienced loan officers can be especially useful during this time of uncertainty in mortgage rates.
For more information on how Blue Loan Services can help California home loan borrowers get approved for their home purchase loan or refinance quickly, please visit BlueLoanServices.com or call 1-888-929-BLUE (2583) to speak with an experienced mortgage professional.
CA Dept of Real Estate -- Licensed Broker #01094374 NMLS #938365