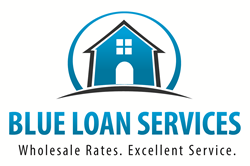 San Diego, CA (PRWEB) April 04, 2014
Today's employment situation report showed decent data, however market participants were prepared for a much stronger report. This over-preparation, coupled with news that the European central bank has begun modeling its own quantitative easing program (much like the U.S.'s QE program) has resulted in a mortgage rates rally, with national averages dropping 0.07% today. Blue Loan Services, a full service California mortgage company that has been providing the lowest rates and best loan products for many years, comments on this current situation and gives some advice for those who are not sure how to best proceed with their home loan plans.
An April 4th report from Mortgage News Daily says, "Mortgage rates were significantly lower today, erasing a full week's worth of time spent moving higher in fits and starts. The main event was this morning's release of the Employment Situation Report. While the numbers were actually pretty decent, market participants were prepared for something even stronger--a fact that's evident in the recent willingness to push rates against their recent highs leading up to today. In that sense, a 'merely good' report on jobs wasn't strong enough to justify any additional weakness and rate sheets came out much stronger. When adjusted for day to day changes in closing costs, rates were an equivalent of 0.07% lower today. The most prevalently quoted conforming 30yr rate for top-tier scenarios (best-execution) is back down to 4.5 after challenging and 4.625% over the past 2 days."
This report also says, "Today's story doesn't begin and end with the Jobs report. Despite the massive amount of focus it justifiably receives, it only accounted for the half of today's gains in and of itself. The other half came courtesy of an event that didn't get much air time in domestic channels, partly because it was European, and mostly because everyone assumed it was ongoing reaction to the jobs data. The event in question was simply a report that the European central bank had begun modeling a €1 trillion QE program. Just like the promise of QE in the US, the promise of big, guaranteed bond-buying generally pushes rates much lower."
Blue Loan Services explains that this downturn in rates is good news, and might continue in the short term. While it is impossible to tell what rates will look like next week, it is possible that many lenders will reprice to better rate sheets on Monday. However, floating is always a risk. Those who would rather play it safe should lock in today's gains as soon as they can. If rates do go down further, those who have already locked in can always renegotiate if they are working with a lender that allows for renegotiation.
Blue Loan Services can help borrowers within California who wish to lock in today's lowest mortgage rates to find the best possible lenders and loans for their situation and work quickly to get approved so that they can avoid higher rates down the line. Their fast online loan application and documentation portal makes it simple for clients to submit their application and keep track of their loan's progress. With a reputation for fast, reliable and courteous service, the company's team of experienced loan officers can be especially useful during this time.
For more information on how Blue Loan Services can help California home loan borrowers get approved for their home purchase loan or refinance quickly, please visit BlueLoanServices.com or call 1-888-929-BLUE (2583) to speak with an experienced mortgage professional.
CA Dept of Real Estate -- Licensed Broker #01094374 NMLS #938365