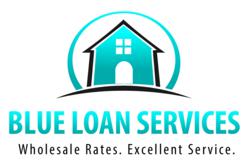 San Diego, CA (PRWEB) July 05, 2013
Blue Loan Services is a full service mortgage company that has been helping California residents to get the best wholesale mortgage prices and the lowest refinance rates available for a number of years. The company prides itself in offering some of the best loan options and the fastest online loan processing times. This last feature is especially pertinent, with mortgage rates rising last June the fastest in one week since 1987. This sudden rate increase took many people in the mortgage industry by surprise, and many who had been planning to purchase a home or refinance now have to face the reality that they probably waited too long and missed their chance of locking in some of the lowest mortgage interest rates the industry has seen in years.
The rate increase was largely due to speculation and fear caused by statements by the Federal Reserve's chairmen, Ben Bernanke, which many took to mean that the government would be scaling down their stimulus program that had been keeping interest rates low. Rates shot up almost overnight. An article about the sudden rate increase from the New York Times, posted June 20th, says: "The Standard & Poor's 500-stock index took its worst two-day dive since November 2011 and has lost 5 percent of its value in the last month. Wells Fargo, the nation's largest mortgage lender, raised its advertised rate on 30-year loans to 4.5 percent from 3.9 percent in the same period."
But while many took the Fed's statements to be grim news, and acted accordingly, the Federal Reserve's chairman says of the reaction: "If you draw the conclusion that I've just said that our policies, that our purchases will end in the middle of next year, you've drawn the wrong conclusion, because our purchases are tied to what happens in the economy," Another statement added that "the Fed still planned to stimulate the economy on a big scale over the next few years. The central bank continues to hold short-term interest rates near zero, and Mr. Bernanke said it might maintain that policy for longer than previously expected."
But, while the reaction to the statements was not founded, and home loan rates have stabilized since the sudden increase, the fact remains that rates are now higher than they were just a few short weeks ago and those who had been putting off refinancing or applying for a loan, thinking that rates would remain largely unchanged, are probably sorely hurting right now. But that does not mean that they should abandon their plans. Blue Loan Services points out that, despite the increase, rates are still near the record lows of last year, and the real lesson that borrowers should take from the situation is that they should not wait, hoping that rates will go down again.
Rates are still expected to rise, albeit not as fast as the recent sudden increase, so those who had been planning to finance or refinance a home should act now to lock in these rates that are still quite low, before they get any higher. Blue Loan Services, which specializes in a number of home finance and refinance products, can help borrowers to do just this with their online portal and fast rate quote tool that helps people to find and apply for the best loans possible, with a minimal amount of time and effort. The fast processing time can mean the difference between locking in a rate that is affordable for the borrower, or having to settle for the higher rates that many are predicting are down the road.
For more information on the fast online loan application and processing, please visit Blue Loan Services by clicking here or calling 1-888-929-BLUE (2583) to talk with an experienced mortgage professional about the different loan options available.
CA Dept of Real Estate -- Licensed Broker #01094374 NMLS #938365