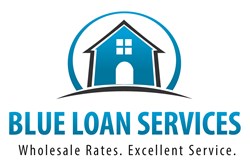 San Diego, CA (PRWEB) February 10, 2014
Blue Loan Services is a California mortgage company that offers the lowest wholesale mortgage rates and fees, and access to the best lenders, loan products, and real estate agents around. The company, headed by father and son team Robert and Brandon Blue, has been helping California mortgage seekers to find the best loan deals for their unique situations for many years. The company strives to offer the best services, and continuously keeps their clients up to date on any new developments in the finance or real estate markets which would affect their mortgage rate or loan options. Recently, after a weaker than expected jobs report, mortgage rates have been moving slightly downward. Blue Loan Services comments on this developing situation and gives some advice for those who are on the lookout for the best home loans.
A February 7th report from Mortgage News Daily explains, "Mortgage rates were finally lower today, but the drop was modest given that it was the product of a weak jobs report--typically a bigger market mover. Additionally, when viewed against the past three straight days of weakness, today only got us back to Wednesday's levels. The most prevalently quoted conforming 30yr fixed rate for the very best borrower scenarios (best-execution) remains at 4.375% for the most part though 4.25% and 4.5% are both fairly close. When adjusted for day to day changes in closing costs, rates fell an equivalent of 0.04% today."
Blue Loan Services explains that it is unusual for a report such as the NFP to have such a small impact on rates, and the reason that mortgage rates have only slightly improved is likely because there is still a lot of uncertainty in the financial markets. What is uncertain is whether the decreases over the last few weeks have been just a pocket of correction, or if it is part of a bigger move lower. Usually a jobs report such as last week's would have cleared up any indecision and it would be clear which way mortgage rates are headed, but right now this is not really the case. What might prove to be a better indicator of where rates will head is this week's first congressional testimony be new Federal Reserve chairperson, Janet Yellen. Until then, however, rates will likely stick to a pretty narrow range.
Blue Loan Services' advice to mortgage borrowers is that they have two options – lock in the current rates or wait to see if rates will improve even more. While the first option is always the safest, the second option (to float) can pay off at times. The problem is, if rates get higher after Ms. Yellen's testimony, or for any other reason for that matter, there is no way to return to previously lower rates. Because of this, the mortgage company advises those who are ready to purchase a home or refinance their current loan that the best course of action is to lock in today's low rates and have the option to renegotiate if rates do move lower.
Blue Loan Services can help those who wish to lock in today's low mortgage rates to find the best possible loans for their situation and work quickly to get approved so that they can avoid higher rates down the line. Their fast online loan application and documentation portal makes it simple for clients to submit their application and keep track of their loan's progress. With a reputation for fast, reliable and courteous service, the company's team of experienced loan officers can be especially useful during this time of rapidly changing mortgage rates.
For more information on how Blue Loan Services can help California home loan borrowers get approved for their home purchase loan or refinance quickly, please visit BlueLoanServices.com or call 1-888-929-BLUE (2583) to speak with an experienced mortgage professional.
CA Dept of Real Estate -- Licensed Broker #01094374 NMLS #938365