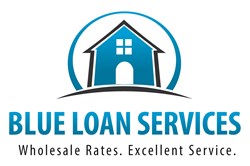 San Diego, CA (PRWEB) February 20, 2014
California borrowers are looking at slightly higher rates, as mortgage lenders were prompted to reprice negatively after the Federal Open Market Committee released the minutes of its meeting held late this January. The fact that mortgage rates had been moderately lower than last week's closing rates over the past two days shows that markets are still not really sure how the economy is faring. Blue Loan Services, a California full service mortgage company which has been helping borrowers to find the best rates and loan products for many years, weighs in on the situation and gives some advice for those who are not sure how to proceed with their home loan plans.
A February 19th report from Mortgage News Daily explains, "Mortgage rates began the day moderately lower compared to yesterday's latest levels, but the improvements didn't last. Bond markets including MBS (the 'mortgage-backed-securities' that most directly affect rates) began losing ground mid-morning and the weakness picked up steam after the afternoon's release of Minutes from the late January FOMC meeting. This prompted most lenders to issue negative reprices. The net effect would be that a borrower who had been looking at slightly lower costs this morning is now back in line with Friday afternoon's offerings. In some cases, that could affect the interest rate itself, but most scenarios would simply be looking at higher closing costs (or a lower lender credit, if applicable)."
Blue Loan Services explains that the rising rates are a sign that it might be best for most borrowers to lock in their loans as soon as they can. The predictions for 2014 all have mortgage rates rising, and while they have had a somewhat downward trend in February, the new increase is a reminder that any downward movement should be seen as a good opportunity to lock in a better rate, and is not necessarily the new state of things in the mortgage world.
Blue Loan Services can help those who wish to lock in today's low mortgage rates to find the best possible loans for their situation and work quickly to get approved so that they can avoid higher rates down the line. Their fast online loan application and documentation portal makes it simple for clients to submit their application and keep track of their loan's progress. With a reputation for fast, reliable and courteous service, the company's team of experienced loan officers can be especially useful during this time of uncertainty.
For more information on how Blue Loan Services can help California home loan borrowers get approved for their home purchase loan or refinance quickly, please visit BlueLoanServices.com or call 1-888-929-BLUE (2583) to speak with an experienced mortgage professional.
CA Dept of Real Estate -- Licensed Broker #01094374 NMLS #938365