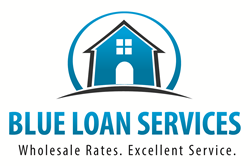 San Diego, CA (PRWEB) February 28, 2014
Mortgage rates fell to new two week lows; the new ground gained bringing rates down near the levels of early February. The new low mortgage rates are great news for any one who has been floating and waiting for rates to get lower. But will rates continue to go down? Blue Loan Services, a full service California mortgage company that has been providing the lowest rates and best loan products for many years, comments on this current situation and gives some advice for those who are not sure how to best proceed with their home loan plans.
A February 27th report from Mortgage News Daily explains, "Mortgage rates gained even more ground today, and are now getting close to early February's levels, which were the lowest since November. Much of the positivity may owe itself to temporary factors including geopolitical turmoil and month-end trading dynamics in the bond markets that most directly inform mortgage rates. After moving down to 4.375% yesterday, today's most-prevalently quoted rate for the best scenarios (best-execution) remains unchanged, but closing costs will be slightly lower. When adjusted for changes in closing cost, rates would be down 0.03% on average."
Blue Loan Services explains these new lower mortgage rates are good news for those looking for the best loan. However, the real question is whether rates will continue to go lower or start to head up again. With the slew of disappointing economic reports and, as MND mentions, geopolitical unrest markets have had to take into account, it is unlikely that rates will start heading drastically upwards in the near future. However, this is never out of the cards, as small factors can influence mortgage rates in unpredictable ways.
Because of this, Blue Loan Services advises borrowers that the safest course of action right now would be to lock in the current rates, or float very carefully over the weekend and the next few days. While rates may not rise very soon, any gains in mortgage rates over the next week will probably be minimal but a sharp climb in rates could happen very fast. The upcoming jobs report next Friday will also determine which way rates are headed, so floaters should keep a close eye on this.
Blue Loan Services can help those who wish to lock in today's low mortgage rates to find the best possible loans for their situation and work quickly to get approved so that they can avoid higher rates down the line. Their fast online loan application and documentation portal makes it simple for clients to submit their application and keep track of their loan's progress. With a reputation for fast, reliable and courteous service, the company's team of experienced loan officers can be especially useful during this time of uncertainty.
For more information on how Blue Loan Services can help California home loan borrowers get approved for their home purchase loan or refinance quickly, please visit BlueLoanServices.com or call 1-888-929-BLUE (2583) to speak with an experienced mortgage professional.
CA Dept of Real Estate -- Licensed Broker #01094374 NMLS #938365