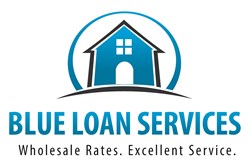 San Diego, CA (PRWEB) January 08, 2014
Blue Loan Services is a full service mortgage company that has been helping California home loan borrowers to find the best loan products and benefit from the lowest mortgage rates and fees for many years. The Blue Loan Services team of mortgage professionals, headed by the father/son team Robert and Brandon Blue, is dedicated to serving its customers with honesty, integrity and competence.
The company also strives to keep borrowers up to date on any changes in the mortgage or finance worlds which could affect their ability to secure affordable home financing, such as changes in rates or home loan policies. Recent reviews of the online California mortgage company show why so many people have chosen to work with Blue Loan Services when it comes to their home loan needs.
One recent Blue Loan Services review from a Simi Valley resident who closed a refinance with the company says, "After dealing with the banks I decided to find an independent loan agent that had more options in his portfolio. I came up with Brandon Blue and couldn't be happier! Brandon combined our two mortgages into one at a better rate, which the bank could not do, but did not tell me they couldn't until they lead me on for two weeks. The whole process was completed in thirty (30) days with Brandon keeping us up to date along the way - no surprises! I will be a return customer for sure."
Another refinance client from Murrieta, CA also gives the company five stars in responsiveness, knowledge, helpfulness and follow through, and says, "I contacted Brandon Blue through the internet. I read all his fabulous reviews and he lives up to every single one of them! He is efficient, friendly and knowledgeable and, as I told Brandon, the process to refinance was a breeze. I would absolutely recommend Brandon again and again. You will feel confident in him and his staff's capable hands!"
These few reviews are just a sample of the many satisfied clients the company has served over the years. One of the biggest benefits of working with Blue Loan Services is their fast online loan processing portal. This portal serves as a way for borrowers to submit and sign documents online, without ever having to travel to an office, and stay in close communication with those working on their loan application so that they will be able to work out any snags quickly and keep updated on the status of their loan application.
As more and more people realize how much easier and more efficient it is to shop for a mortgage online, Blue Loan Services will continue to offer the fast, reliable and friendly service which they are known for and which continues to make them one of the best online mortgage companies for California residents.
For more information on how Blue Loan Services can help California home loan borrowers get approved for their home purchase loan or refinance quickly, please visit BlueLoanServices.com or call 1-888-929-BLUE (2583) to speak with an experienced mortgage professional.
CA Dept of Real Estate -- Licensed Broker #01094374 NMLS #938365