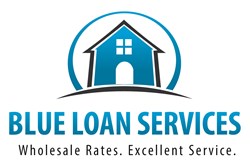 San Diego, CA (PRWEB) January 09, 2014
Blue Loan Services, a California full service mortgage company run by father and son, Robert and Brandon Blue, has been providing a wide range of home loan products, the best wholesale mortgage and lowest mortgage payments for many years. The Blue Loan Services team is dedicated to serving its clients with honesty, integrity and competence and is continuously striving to help save borrowers money on their home purchase, refinance or equity loans. The loan company also does their best to keep their clients up to date on any recent changes in the mortgage and finance industries that could affect loan availability or affordability. Now, with mortgage rates in California seeing the most improvement this year, Blue Loan Services takes a look at the surrounding factors and gives advice to those who wish to use the recent decrease to their advantage.
A January 7th report from Mortgage News Daily explains, "Mortgage rates fell at their fastest pace in 2014 and to their best levels. Such a feat was only manageable due to what has been an exceptionally flat market up to this point. Even today's move was fairly small by historically standards, equating to only 0.03 percent in terms of rate. That means that the improvements over yesterday would be seen in the form of lower closing costs with interest still averaging 4.625% for ideal, conforming 30yr Fixed loans (best-execution). To put the recent flatness in more perspective, there have only been 3 days in the past 30 where rates moved any more than they did today. It continues to be the case that the events in the latter half of the week (beginning tomorrow morning) have more potential to break the monotony, or rather, to continue breaking the monotony that was preemptively broken today."
Blue Loan Services notes that while the decrease was relatively small, any positive change in mortgage rates is good for those seeking the best mortgage rates. This is because overall rates are predicted to be going up this year. Pockets of improvement serve as a good chance for mortgage borrowers to lock in their rates and save on their loans. The company also explains that while there is some hope that rates will continue this positive trend, borrowers will need to be aware that mortgage interest rates are primarily influenced by the data that is released in economic reports, of which a few important ones are scheduled for this week. While weak data could push rates further down, stronger data would likely push them back up to their recent highs.
Because of this, the California mortgage company advises those who do not wish to take chances on higher rates to lock in their rate now, or if they have not yet applied for a loan, to lock on application. Blue Loan Services can help those who wish to lock in the current rates to find the best home loans for their situation and work quickly to get approved so that they can avoid higher rates down the line. Their fast online loan application and documentation portal makes it simple for clients to submit their application and keep track of their loan's progress. With a reputation for fast, reliable and courteous service, the company's team of experienced loan officers can be especially useful during this time of rapidly changing mortgage rates.
For more information on how Blue Loan Services can help California home loan borrowers get approved for their home purchase loan or refinance quickly, please visit BlueLoanServices.com or call 1-888-929-BLUE (2583) to speak with an experienced mortgage professional.
CA Dept of Real Estate -- Licensed Broker #01094374 NMLS #938365