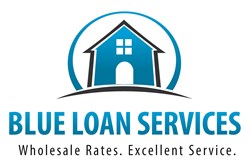 San Diego, CA (PRWEB) December 05, 2013
One of the top California mortgage companies, Blue Loan Services, offers advice for those who are seeking to get the best mortgage rates despite the recent increases this December. The Blue Loan Services team of mortgage professionals, headed by the father-son team Robert and Brandon Blue, has been offering the lowest wholesale mortgage rates, the best loan products and the most reasonable costs to borrowers in California for many years. With their connections to top California lenders and the best real estate agents around, Blue Loan Services ensures that their clients get the very best loan deals which will enable them to save money and finance their homes affordably. With the recent rate hikes, many borrowers may be wondering whether rates are likely to go down again and how to proceed with their home loan plans.
As a December 2nd report from Mortgage News Daily explains: "Mortgage rates moved higher today, bringing them to their worst levels since the morning of September 18th. The average 30yr fixed rate for the most ideally qualified borrowers was already on the move up at the end of last week, but today's weakness solidifies the move up from 4.375 to 4.5% (best-execution). Before September 18th, rates were higher still, in anticipation of the FOMC (the "Fed") policy announcement that afternoon. A clear majority of market participants expected the Fed to announce a reduction in asset purchases (QE). When that didn't happen, rates moved swiftly lower and have held in that range ever since. Even with today's losses, we're still not back up to the pre-September FOMC levels (though we're getting closer). It's an important consideration at the moment given that this week ends with the Employment Situation Report. If any one report could be a lynchpin for Fed policy, this would be it, and the next FOMC Announcement is coming up just a week and a half later."
Blue Loan Services explains that the reason this upcoming report, and the subsequent meeting of the Federal Open Market Committee (FOMC), is so important is because if the data from the Jobs Report comes in strong the Fed could very likely decide to start the tapering of their Mortgage Backed Securities (MBS) purchases, which has been keeping mortgage rates lower than they otherwise should be. This bonds buying program of the Fed is what was responsible for the record low mortgage rates of late last year and earlier this year, and the reason that rates shot up in May and June this year was primarily because the Fed had announced their plans to eventually taper off these purchases once the economy was strong enough.
Because of this, the California mortgage company advises those who are closing on their loans within the next thirty days to seriously consider locking in the current rates, regardless of the recent increase. This is because there is a chance that rates could get even higher within the next few weeks, and those who are not fast enough may be stuck paying much more on their mortgages. Blue Loan Services can help those who wish to lock in the current rates to find the best possible loans for their situation and work quickly to get approved so that they can avoid higher rates down the line. Their fast online loan application and documentation portal makes it simple for clients to submit their application and keep track of their loan's progress. With a reputation for fast, reliable and courteous service, the company's team of mortgage professionals can be especially useful during this time of rapidly changing mortgage rates.
For more information on how Blue Loan Services can help California home loan borrowers get approved for their home purchase loan or refinance quickly, please visit BlueLoanServices.com or call 1-888-929-BLUE (2583) to speak with an experienced mortgage professional.
CA Dept of Real Estate -- Licensed Broker #01094374 NMLS #938365