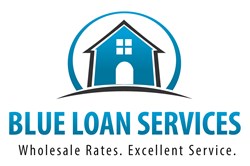 San Diego, CA (PRWEB) October 15, 2013
Blue Loan Services is a full service mortgage company that has been helping residents of California to find the best loan products and home loan rates for many years. The company, headed by the father and son team Robert and Brandon Blue, has been dedicated to serving its customers with honesty, integrity and competence. The Blue Loan Services team of mortgage professionals operates with the goal to provide home loans to its clients while providing them with the lowest interest rates and closing costs possible. These services have all resulted in Blue Loan Services being reviewed as one of the top California lenders.
Recent client reviews of the website on Zillow.com give the loan company five out of five stars when it comes to responsiveness, knowledge, helpfulness and follow through. One of the newest Blue Loan Services reviews states: "We had five re-financings done by Mr. Brandon blue of Blue Home Loans. We found him to be very reliable and honest. He was quite responsive to our queries at various stages of re-financings. His refinancing cost estimates were quite reliable and matched those with the closing statements. We highly recommend him to anyone for their refinancing needs without any reservation. Balbir S. Narang,Professor Dept. of Aerospace Engineering San Diego state University, San Diego"
The loan company also recently helped a client from South Natomas, Sacremento to secure financing for a home purchase. That client's review says: "I worked with Brandon Blue last year to refinance my home. Last month, when I was purchasing a rental property, I decided to work with Brandon because I trusted that he could get the job done. He and his loan processor, Kari Shane, worked diligently on my loan. Even though my 30-day escrow closing was delayed a few days, everything worked out just fine. I have already recommended Brandon's team to my friends and would consider using him again."
The company is especially renowned for the team's ability to help push through more complicated loan applications, as is evidenced in this review from a client living in Montclair, Oakland:
"My last re-fi experience with Brandon Blue was the most positive so far. I had very recently tried two times unsuccessfully to refinance only to have the underwriters kill the deal. As such, I was reticent to start the process again for fear that it would not go through. Brandon convinced me that the lender he was working with would likely approve my refinance loan. So I bit the bullet and went for it. The process went about as smoothly as usual, until the underwriters asked for a document/piece of information which was nearly impossible to obtain. It appeared as though the deal was dead. Brandon went to bat for me and requested that senior underwriters re-examine their request and allow the deal to continue. He was able to convince them. My sense is that not many other brokers would have been able to pull this off. As such, I am quite grateful for his skills at negotiating through the loan process. I would definitely do business with him again."
These are just a few of the glowing reviews Blue Loan Services has gotten from satisfied clients across The Golden State. For more information on how Blue Loan Services can help California home loan borrowers get approved for their home purchase loan or refinance quickly, please visit BlueLoanServices.com or call 1-888-929-BLUE (2583) to speak with an experienced mortgage professional.
CA Dept of Real Estate -- Licensed Broker #01094374 NMLS #938365