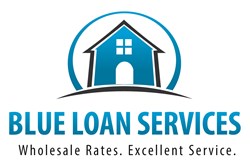 San Diego, CA (PRWEB) August 30, 2013
Robert Blue's 25 years of California mortgage experience was recently marked by Blue Loan Services, the full service mortgage company which is co-owned by both Robert and his son, Brandon Blue. With over 35 years of experience between them, the father/son team, as well as the other loan officers at Blue Loan Services, have been dedicated to serving their customers with honesty, integrity and competence. The Blue Loan Services team of mortgage professionals operates with the goal to provide home loans to its clients while providing them with the lowest interest rates and closing costs possible.
Robert Blue's experience in the housing market has helped make Blue Loan Services the dynamic and highly efficient business that it is today. With constant changes to mortgage interest rates and other aspects of the financial world that affect homeowners, the company has managed to provide for their clients' needs by consistently staying updated on the latest loan offerings available and helping their clients choose the ones that will perfectly fit their mortgage scenarios and enable them to save the most amount of time and money.
BlueLoanServices.com says: "Our goal is to offer the best refinance rates and lowest mortgage payments in minutes. We will beat virtually any mortgage rate quote and our wide selection of loan products are sure to provide the perfect mortgage solution for all of your Real Estate Finance needs. We specialize in home purchase, home refinance, second mortgage, and home equity loans. Our mission is to serve our customers with honesty, integrity and competence. Our goal is to provide home loans to our clients while providing them with the lowest interest rates and closing costs possible."
"Whether you need help for a debt consolidation loan or you have bad credit, we are your complete mortgage solution for refinance and purchase transactions. Need cash out? Debt consolidation, cash out, and low interest rates are our specialty, regardless of bad credit, foreclosures, or bankruptcy. We know that you have specific needs and we strive to meet those needs with a wide array of refinance and purchase products and most importantly, quality service and individual attention. We can help you resolve your bad credit, bankruptcy, and foreclosure issues. All we need is a few minutes to determine how we can save you money and improve your current mortgage rate, payment, and financial well-being."
Clients of the company can avail of the above outlined fast service by either using the online tools provided on the company's website to browse their mortgage options and apply for their loan through the online documentation and application portal, or by calling the company directly and getting advice from one of the mortgage experts who are always on hand. Any way they choose to do it, clients of the Blue Loan Services company will be benefiting from the lowest possible rates for their mortgages and enjoying fast and friendly services from the Blue Loan Services team who will work to get their loans closed as quickly as possible.
For more information on how Blue Loan Services can help home loan borrowers get approved for their home purchase loan or refinance quickly, please visit BlueLoanServices.com or call 1-888-929-BLUE (2583) to speak with an experienced mortgage professional.
CA Dept of Real Estate -- Licensed Broker #01094374 NMLS #9383