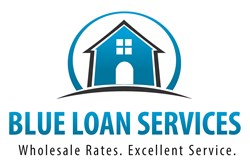 San Diego, CA (PRWEB) October 07, 2013
Blue Loan Services is a full service mortgage company that has been helping residents of California to find the best loan products and home loan rates for many years. The company, headed by the father and son team Robert and Brandon Blue, has been dedicated to serving its customers with honesty, integrity and competence. The Blue Loan Services team of mortgage professionals operates with the goal to provide home loans to its clients while providing them with the lowest interest rates and closing costs possible. The company also offers advice to borrowers on what to make of current mortgage news. Many home loan borrowers are likely wondering if the current government shutdown will affect their chances of getting a decent rate on their home loans. The good news is despite this situation, CA mortgage rates hold firm and the government shutdown is not affecting mortgage rates yet. Blue Loan Services explains what is happening in the mortgage industry and gives some advice for those who want to lock in the best mortgage interest rates.
First of all, it is important to understand that mortgage rates are not directly being affected by the shutdown right now, but if it continues much longer, those in the real estate industry will start to feel the effects of the shutdown. A recent article from Mortgage News Daily, posted on October 3rd, says:
"With the government shutdown now in its third day and the debt ceiling deadline looming there are increasing signs that some financial players are growing less sanguine. This morning, David H. Stevens, President and CEO of the Mortgage Bankers Association (MBA) released a statement saying the effect of the shutdown will grow larger the longer it continues. A temporary shutdown will most affect federal employees, he said, "However the longer it goes, the greater impact it will have on borrowers, the housing market and the national economy."
This article also says: "Many of the items lenders need to process loans, tax transcripts, social security number verification, or FHA home loans will be delayed because of reduced functionality from HUD, IRS, and the Social Security Administration, he said. "Different loan programs have different requirements, and these disruptions impact lenders in different ways, leading to confusion and fear among borrowers about whether they will be able to close on a home purchase or refinance." Stevens noted there would also be significant impacts on multifamily lenders as well, especially rental housing properties awaiting FHA financing."
Because of this situation, Blue Loan Services advises their clients to act quickly if they want to avoid the confusion a prolonged shutdown would cause in the mortgage business. The home loan company has assisted residents all over California to find and apply for loans that enabled them to get into their homes and benefit from thousands, or even tens of thousands, of dollars of savings over the course of their loans. Blue Loan Services can help those who wish to lock in the current rates to find the best possible loans for their situation and work quickly to get approved so that they can avoid higher rates down the line. Their fast online loan application and documentation portal makes it simple for clients to submit their application and keep track of their loan's progress. With a reputation for fast, reliable and courteous service, the company's team of mortgage professionals can be especially useful during this time of rapidly changing mortgage rates.
For more information on how Blue Loan Services can help California home loan borrowers get approved for their home purchase loan or refinance quickly, please visit BlueLoanServices.com or call 1-888-929-BLUE (2583) to speak with an experienced mortgage professional.
CA Dept of Real Estate -- Licensed Broker #01094374 NMLS #938365