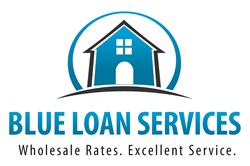 San Diego, CA (PRWEB) December 16, 2013
Blue Loan Services is a full service mortgage company that has been servicing the residents of California with some of the lowest wholesale home loan interest rates and the quickest online processing times for many years. The Blue Loan Services team of mortgage professionals, headed by father/son duo Robert and Brandon Blue, is dedicated to serving its clients with honesty integrity and competence. Recent Blue Loan Services testimonials show why it continues to be one of the favorite home loan companies for many California residents. The company's fast response time, professionalism and their ability to work with their clients and the loan servicer to resolve difficult loan processing situations consistently come out as some of the reasons Blue Loan Services clients choose to work with the company.
One of the Blue Loan Services reviews, that gives the company a five star rating when it comes to knowledge, helpfulness and follow through, says of Brandon Blue and the Blue Loan Services company, "After dealing with the banks I decided to find an independent loan agent that had more options in his portfolio. I came up with Brandon Blue and couldn't be happier! Brandon combined our two mortgages into one at a better rate, which the bank could not do, but did not tell me they couldn't until they lead me on for two weeks. The whole process was completed in thirty (30) days with Brandon keeping us up to date along the way - no surprises! I will be a return customer for sure."
Another of the recent reviews, from client living in Murietta, CA who closed a refinance loan with the company, says, "I contacted Brandon Blue through the internet. I read all his fabulous reviews and he lives up to every single one of them! He is efficient, friendly and knowledgeable and, as I told Brandon, the process to refinance was a breeze. I would absolutely recommend Brandon again and again. You will feel confident in him and his staff's capable hands!"
A refinance client from South Natomas, Sacramento, CA says, "I worked with Brandon Blue last year to refinance my home. Last month, when I was purchasing a rental property, I decided to work with Brandon because I trusted that he could get the job done. He and his loan processor, Kari Shane, worked diligently on my loan. Even though my 30-day escrow closing was delayed a few days, everything worked out just fine. I have already recommended Brandon's team to my friends and would consider using him again."
These are just a few of the many shining reviews the company has received over the years. Their dedication to excellence and reputation for fast, professional and courteous service has helped the company secure a place as one of the best choices for California home loan borrowers. For more information on how Blue Loan Services can help California home loan borrowers get approved for their home purchase loan or refinance quickly, please visit BlueLoanServices.com or call 1-888-929-BLUE (2583) to speak with an experienced mortgage professional.
CA Dept of Real Estate -- Licensed Broker #01094374 NMLS #938365