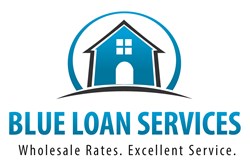 San Diego, CA (PRWEB) October 27, 2013
Blue Loan Services is a full service mortgage company that has been helping residents of California to find the best loan products and home loan rates for many years. The company, headed by the father and son team Robert and Brandon Blue, has been dedicated to serving its customers with honesty, integrity and competence. The Blue Loan Services team of mortgage professionals operates with the goal to provide home loans to its clients while providing them with the lowest wholesale interest rates and closing costs possible. With rates recently decreasing after the release of the long awaiting jobs report, many are using today's low rates as an opportunity to refinance their current mortgages. Blue Loan Services reviews the situation and gives some advice for those who want to get the best refinance rates.
The first thing that borrowers should take into account is that while the new low rates are great for all those who have been looking for the right home loan, the fact is that they may not be around for long. Mortgage rates can shift drastically from one week to the next and even from one day to the next. Those who are planning to refinance at the current home loan rates should take this into account and lock in their rate as soon as they can. As an article that was posted on October 24th on Mortgage News Daily says:
"Mortgage rates held steady for the most part on Thursday, keeping them in line with 4 Month Lows (a milestone reached last Friday). There were slight variations in closing costs between lenders, with some moving either higher or lower from yesterday, but not even remotely enough to change the prevailing rates. As such, the most prevalent conforming 30yr fixed rate (best-execution) remains at 4.125% for the best qualified buyers. Despite an increase in the amount of economic data, activity was quite light in Bond markets, which include the mortgage-backed-securities (MBS) that most directly influence mortgage rates. Trading levels stuck to their recent ranges, but did follow movement in equities markets to some extent. In general, the more significant pieces of data coming up in the next two weeks are keeping movement subdued. We saw the same phenomenon ahead of the most recent jobs report, but we also saw how potent enough surprises can affect the stability. It makes sense to be ready to act quickly in terms of locking a rate."
Blue Loan Services can help those who wish to lock in the current rates to find the best possible loans for their situation and work quickly to get approved so that they can avoid higher rates down the line. Their fast online loan application and documentation portal makes it simple for clients to submit their application and keep track of their loan's progress. With a reputation for fast, reliable and courteous service, the company's team of mortgage professionals can be especially useful during this time of rapidly changing mortgage rates.
For more information on how Blue Loan Services can help California home loan borrowers get approved for their home purchase loan or refinance quickly, please visit BlueLoanServices.com or call 1-888-929-BLUE (2583) to speak with an experienced mortgage professional.
CA Dept of Real Estate -- Licensed Broker #01094374 NMLS #938365