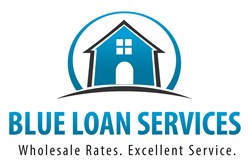 San Diego, CA (PRWEB) October 24, 2013
Blue Loan Services is a full service mortgage company that has been helping residents of California to find the best loan products and home loan rates for many years. The company, headed by the father and son team Robert and Brandon Blue, has been dedicated to serving its customers with honesty, integrity and competence. The Blue Loan Services team of mortgage professionals operates with the goal to provide home loans to its clients while providing them with the lowest wholesale interest rates and closing costs possible. Recently the mortgage company added more top rated FHA and VA lenders to help their clients get the best mortgage for their situations despite the stricter requirements that have been put into place for these loan programs.
The company has always striven to provide their clients with the very best mortgage rates, loan products and lenders. The addition of new lenders to the Blue Loan Services team's roster that specialize in FHA and VA loan products ensures that they continue to offer the very best when it comes loan options. Both FHA and VA loan products offer many potential advantages over conventional loans for those who qualify for them, and Blue Loan Services has been helping California clients to get approved for such loans quickly and efficiently for many years. However, recent changes may make it more complicated for home loan borrowers to get approved for these types of loans.
A recent article from Mortgage News Daily, posted October 18th, says: "The new guidelines will most affect credit challenged buyers, those least likely to qualify for loans outside the FHA program. For borrowers with collections totaling over $2,000, FHA now requires lenders using the Total Scorecard underwriting system to include monthly payments for the first time. While some collections report a minimum payment on credit reports, most do not, and lenders will assume a payment of 5% of the outstanding balance. Adding the assumed payments will raise buyers' debt ratios, reduce their purchasing power, and potentially prevent some from purchasing homes. Guidelines for loans underwritten manually are even more stringent, requiring letters of explanation and supporting documentation from borrowers on collection accounts."
With the new tight guidelines in place some people may be discouraged from availing of these types of loans, but with help from the experts at Blue Loan Services, there is no reason that this should be the case. The mortgage company is known for its professional yet friendly service, and if the borrower has any questions Blue Loan Services will be more than able to help answer them. Blue Loan Services is also experienced with pushing through difficult loan applications, and the loan experts for FHA and VA loans will know exactly what needs to be done in order to get the loan approved. Their fast online loan application and documentation portal also makes it simple for clients to submit their application and keep track of their loan's progress.
For more information on how Blue Loan Services can help California home loan borrowers get approved for their home purchase loan or refinance quickly, please visit BlueLoanServices.com or call 1-888-929-BLUE (2583) to speak with an experienced mortgage professional.
CA Dept of Real Estate -- Licensed Broker #01094374 NMLS #938365