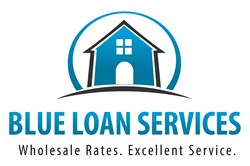 San Diego, CA (PRWEB) November 14, 2013
Blue Loan Services is a full service mortgage company that has been helping residents of California to find the best loan products and home loan rates for many years. The company, headed by the father and son team Robert and Brandon Blue, has been dedicated to serving its customers with honesty, integrity and competence. The Blue Loan Services team of mortgage professionals operates with the goal to provide home loans to its clients while providing them with the lowest wholesale interest rates and closing costs possible. Over the years the top California mortgage company has helped home owners all across the state to find the loans that enabled them to purchase their homes or refinance their previous mortgages to make their homes more affordable or free up extra money. Now, thanks to the addition of new specialized lenders to the company's roster, Blue Loan Services is now helping veterans and their families procure the benefits of VA home loans.
The company, which is headed by two U.S. Army veterans – both Robert and Brandon Blue –, is dedicated to helping those who have served in the armed forces, or who are still active service members, to benefit from the many advantages of a VA backed home loan. The VA benefit can be used for both new home purchase and Interest Rate Reduction Refinancing Loan (IRRRL). In answer to a question on Mortgage News Daily, some of the benefits of VA loans are "The sellers can pay closing costs for the veterans and there are no required seller paid points any longer. The process takes no longer than for any other type of loan IF you use a Realtor familiar with the program AND a Loan Officer who is well versed in the VA program."
Luckily, for California based veterans, Blue Loan Services is both highly experienced with the VA loan program and has connections to the best realtors across California. The mortgage company can help ensure that the loan process is smooth and fast and can also help their clients find the right realtor that will help them find the perfect home for their needs and also expedite the loan approval process. This fast action can be especially helpful right now, as mortgage rates are quickly changing and a speedy loan process can help save thousands on interest rates payments over the course of the loan.
Blue Loan Services is known for their fast, professional and courteous services. Their fast online loan application and documentation portal makes it simple for clients to submit their application and keep track of their loan's progress. With a reputation for fast, reliable and courteous service, the company's team of mortgage professionals can be especially useful during this time of rapidly changing mortgage rates.
For more information on how Blue Loan Services can help California home loan borrowers get approved for their VA home purchase loan or refinance quickly, please visit BlueLoanServices.com or call 1-888-929-BLUE (2583) to speak with an experienced mortgage professional.
CA Dept of Real Estate -- Licensed Broker #01094374 NMLS #93836