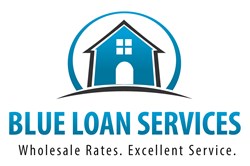 San Diego, CA (PRWEB) November 15, 2013
Blue Loan Services is a full service mortgage company that has been helping residents of California to find the best loan products and home loan rates for many years. The company, headed by the father and son team Robert and Brandon Blue, has been dedicated to serving its customers with honesty, integrity and competence. The Blue Loan Services team of mortgage professionals operates with the goal to provide home loans to its clients while providing them with the lowest wholesale interest rates and closing costs possible. Recently the company has started offering VA loan services to former and active members of the armed forces living in California.
As a U.S. Army veteran himself, Brandon Blue understands how important it can be for veterans to be able to benefit from VA backed loans to finance their home purchases or avail of Interest Rate Reduction Refinancing Loans (IRRRL). Blue Loan Services experience loan officers, as well as their connections to VA specialized lenders and Realtors who are familiar with the VA program, enables U.S. veterans to quickly get approved for VA loans that will help save them a lot of money and gain other benefits not available with normal mortgage loans.
Blue Loan Services' website lists the benefits of VA loans as:

100% financing, no down payment loans are common.
No Private Mortgage Insurance (PMI).
No penalties if you prepay the loan.
Competitive interest rates.
Loan qualification is sometimes easier than if you were applying for a conventional loan.
Sellers can pay all closing costs.
Clearly in most cases, VA home loans are the best option for those who are eligible for this benefit. Blue Loan Services can help eligible borrowers to navigate the loan process and quickly get approved and into their new homes, or benefiting from reduced payments if they have applied for a refinance. Their fast online loan application and documentation portal makes it simple for clients to submit their application and keep track of their loan's progress. With a reputation for fast, reliable and courteous service, the company's team of mortgage professionals can be especially useful during this time of rapidly changing mortgage rates.
For more information on how Blue Loan Services can help California home loan borrowers get approved for their VA home purchase loan or refinance quickly, please visit BlueLoanServices.com or call 1-888-929-BLUE (2583) to speak with an experienced mortgage professional.
CA Dept of Real Estate -- Licensed Broker #01094374 NMLS #938365