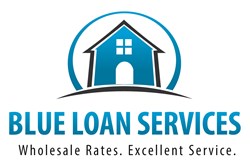 San Diego, CA (PRWEB) September 05, 2013
Blue Loan Services is a full service mortgage company that has been helping residents of California to find the best loan products and home loan rates for many years. The company, headed by the father and son team Robert and Brandon Blue, has been dedicated to serving its customers with honesty, integrity and competence. The Blue Loan Services team of mortgage professionals operates with the goal to provide home loans to its clients while providing them with the lowest interest rates and closing costs possible. The company also offers advice to borrowers on what to make of current mortgage news. Now, with the jobs report due to be released within the next few days, many homeowners are wondering where mortgage rates are headed. Blue Loan Services reviews the current situation and gives advice for those who are unsure about their home purchase or refinance plans.
The loan servicing company reminds their clients that the record low interest rates that were seen earlier this year were in fact artificial and only kept low buy the Federal Reserve's bonds buying program. All this changed this June when the Fed let out that they were considering drawing their program to a close since the economy has been showing signs of strong recovery. Rates rose immediately in anticipation of this change, but as of yet the Fed has not announced a date for the start of the tapering off of their program or even if it will end at all. Most experts are expecting the Fed to make this decision when they meet again this September 18th.
In the meantime, mortgage rate predictors have been looking at economic reports for any signs of either a strengthening or weakening economy. Data showing a weak economy may be able to convince the Federal Reserve to continue their bonds buying activity, but so far reports have shown either lukewarm or even slightly positive data. This has prompted many experts to advise borrowers to lock in their rates on application, since it is more than likely that rates will continue to rise rather than go back down. Though there have been a few small dips in rates over the past few weeks, overall this advice has proven to be quite sound.
What everyone has really been holding their breath for, however, is the jobs report, which is to be released this Friday. A favorable jobs report would likely cement the Fed's decision to discontinue their program, which will more than likely lead to higher rates in the upcoming weeks and months. It is important to remember though that this program has always been temporary. Even if the Fed does put off their program's discontinuation, the program will eventually come to a close. Blue Loan Services advises those who are looking for the best mortgage rates to lock in their loan rate as soon as possible so that they can avoid the possibly much higher rates that are right around the corner.
In the case where the Fed does decide not to close their program, and rates do get lower, borrowers always have the option to renegotiate their rates lower, but if rates get higher, they will not be able to negotiate for a lower previous rate, so lock in quickly is still the best course of action. Blue Loan Services can help those who wish to lock in the current rates to find the best possible loans for their situation and work quickly to get approved so that they can avoid higher rates down the line. Their fast online loan application and documentation portal makes it simple for clients to submit their application and keep track of their loan's progress. With a reputation for fast, reliable and courteous service, the company's team of mortgage professionals can be especially useful during this time of rapidly changing mortgage rates.
For more information on how Blue Loan Services can help home loan borrowers get approved for their home purchase loan or refinance quickly, please visit BlueLoanServices.com or call 1-888-929-BLUE (2583) to speak with an experienced mortgage professional.
CA Dept of Real Estate -- Licensed Broker #01094374 NMLS #938365