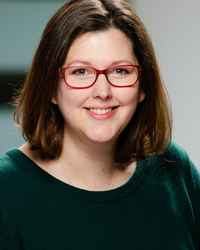 "Lauren understands the unique challenges and diverse data needs of marketers today," said Cindy Brown, CEO at Blue Moon Digital, Inc. This specialized skillset will prove beneficial for the company and truly transformative for our clients."
DENVER (PRWEB) April 24, 2019
Blue Moon Digital, Inc. promoted Lauren Owen to Vice President, analytics. In this new role, Lauren will manage a growing analytics team responsible for all aspects of data management from collection to analysis. Owen will also play a key role in developing user experience strategies to improve consumer engagement metrics as well as new methodologies to deliver quality website traffic for the company's diverse client base.
"We are thrilled to have Lauren in this role," said Cindy Brown, CEO at Blue Moon Digital, Inc. "She has a holistic and tailored approach to data analysis that brings a new level of sophistication and rigor to our data management processes. Lauren also understands the unique challenges and diverse data needs of marketers today. This specialized skillset will prove beneficial for the company and truly transformative for our clients."
"How we collect, analyze, and leverage data to improve and grow our businesses will evolve rapidly in the next few years," said Lauren Owen, Vice President, Analytics at Blue Moon Digital, Inc. "Over time we will see more traditional and non-traditional businesses leveraging data in new ways to reach their consumers and grow their businesses. This new role allows me to work with a company doing ground-breaking work in marketing, analytics, and strategy all while helping more clients excel and win with their customers."
Owen has more than a decade of analytics experience, and she speaks about user experiences and data analytics at various events. Owen holds a B.S. in Marketing and a B.A. in Art Political Science from Miami University.
About Blue Moon Digital
Headquartered in Denver, Colorado, Blue Moon Digital, Inc. is a strategic digital consultancy blending the best of data analytics and creative marketing to help businesses navigate the complexities of the digital landscape. Driven by a passion for solving their clients' most challenging problems, Blue Moon Digital also developed a proprietary toolset to grow their clients' e-commerce business while supporting their brick and mortar locations through paid media and SEO. With more than 60 clients operating in over 35 countries, the company is starting a data revolution to help consumer businesses around the world leverage real-time insights to achieve desired business results.