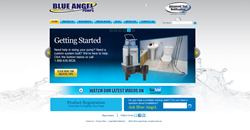 We are excited about the new look and feel of our professionally focused website, said Jeremy Cantor, VP Sales & Marketing
Harrison, Ohio (PRWEB) March 02, 2015
Blue Angel Pumps, a professional line of sump and sewage pumps dedicated to the professional plumber, has revitalized its website at http://www.blueangelpumps.com with a new look and expanded array of pump products designed for the professional market. The brand has been taken to the national level in 2015.
The website includes Blue Angel Pumps' new logo, featuring a yellow halo with blue lettering and the tagline "Professional Products for Professionals," new graphics, and an easy to navigate selection of new pump products. The website also offers YouTube videos to explain product benefits and installation as well as an Ask Blue Angel section for added tech support.
"As the Blue Angel brand moves into the national market this year, we are excited about the new look and feel of our professionally focused website," said Jeremy Cantor, VP of Sales and Marketing. "It made sense to highlight our new brand identity as well as to make our professional products stand out in a bold way."
Blue Angel Pumps is backed by WAYNE Water Systems, a Scott Fetzer/Berkshire Hathaway Company, with expertise in moving large volumes of water that is recognized throughout the industry.
About Blue Angel Pumps
Blue Angel Pumps are professionally designed with the professional plumber in mind and engineered to endure the most demanding environments. The Blue Angel Pumps brand includes sump, sewage, utility and residential pumps known for dependable, reliable performance. Visit http://www.blueangelpumps.com; our Facebook page at https://www.facebook.com/pages/Blue-Angel-Pumps/119873691370797?ref=hl and follow us on Twitter at https://twitter.com/blueangelpumps.